'Smokin' Aces 2: Assassins' Ball' On DVD & BD Jan. 19

Smokin' Aces 2: Assassins' Ball
, the all-new movie about the adrenaline-pumping world of blood, bullets and badasses, is blasting its way onto Blu-ray Hi-Def, DVD and digital download January 19, 2010.
Executive produced by Joe Carnahan, the writer-director behind the shockingly edgy hit
Smokin' Aces
, and directed by P.J. Pesce, "Smokin' Aces 2: Assassins' Ball" features a sexy cast, whip-smart script and hyper-kinetic visuals. And, with the return of infamous assassins Lazlo Soot and the Tremor Brothers from the original theatrical film, audiences will experience a furious frenzy of explosive action that will keep them guessing until the very last scene. Both the Blu-ray and DVD editions include the rated and unrated versions of the movie and an arsenal of explosive bonus features.
Universal Studios Home Entertainment presents a Working Title Production of "Smokin' Aces 2: Assassins' Ball", starring
Tom Berenger
,
Clayne Crawford
, Martha Higareda,
Ernie Hudson
, Michael Parks,
Autumn Reeser
and
Vinnie Jones
, as well as returning stars from the original theatrical release
Tommy Flanagan
,
Maury Sterling
and Christopher Michael Holley.
The latest in Universal's DVD Originals series, "Smokin' Aces 2: Assassins' Ball" lives up to its predecessor with an all-star group of assassins, vicious sociopaths and other murderous freelancers who battle to bring down a single, high-priced target. The Universal DVD Originals line of high-quality, aggressively marketed features has included some of the most successful, live-action, non-family made-for-DVD titles of all time including "Scorpion King 2: Rise of a Warrior", "Bring It On: All Or Nothing", "
American Pie Presents Band Camp
", "American Pie Presents The Naked Mile" and "Bring It On Again".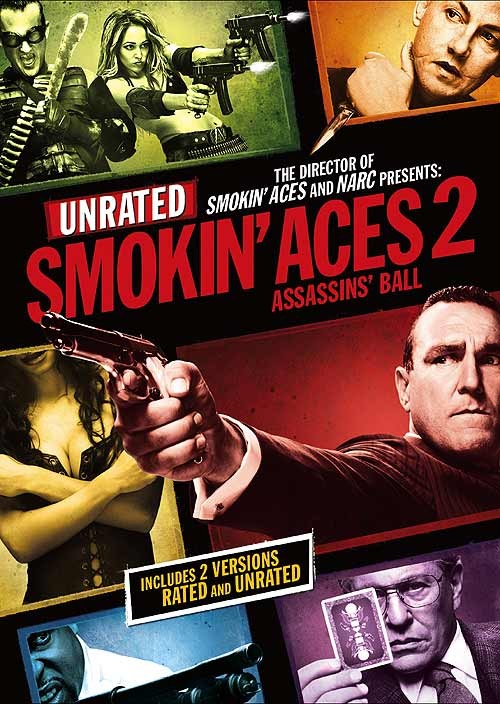 Bonus Features Exclusive To Blu-ray Hi-Def:
-BD-LIVE – Fans can access exclusive online and interactive features through their Internet-connected Blu-ray player, including:
-MY SCENES SHARING – Show your BD-Live friends your favorite scenes from the film.
Bonus Features Available On Blu-ray Hi-Def And DVD:
-Deleted Scenes
-Gag Reel
-Behind the Scenes with Joe Carnahan: Executive producer Joe Carnahan, producer Mike Elliott, writers Olatunde Osunsanmi and Olumide Odebunmi and director P.J. Pesce talk about the process of jumping back into the world of Smokin' Aces.
-CONFESSIONS OF AN ASSASSIN: director P.J. Pesce and the stars of the movie take us through production, from the ground, amidst the mayhem, blood, guts, bullets and all.
-Ready, Aim, Fire: the weapons of smokin' aces 2: Meet the armorer who equipped the gang with the over 20 guns in the film.
-CUE THE CLOWN: A behind the scenes look at what it took to produce one of the most explosive stunts in the movie.
-The Bunker Mentality: designing the set: Production designer Chris August, along with director P.J. Pesce and executive producer Joe Carnahan discuss the Art Deco look and feel of the sets as well as the little details that gave them the freedom them to shoot quickly and in every direction.
-Feature Commentary with executive producer Joe Carnahan and director P.J. Pesce
Federal agents once again match wits with a cadre of creative killers in the high-octane feature-length film "Smokin' Aces 2: Assassins' Ball". Walter Weed (Berenger) is an unassuming desk jockey at the FBI when the Bureau uncovers a plot to assassinate him. A team of degenerate, psychotic assassins dispatched by mystery man Hal Leuco to win a huge bounty includes a resourceful beauty who has a unique method of killing her prey (Higareda), a power-tool wielding psychopath (Jones) and a deadly master of disguise (Flanagan). Also in the hunt is the fan-favorite Tremor family from the original film, featuring nymphomaniacal gun-nut (Reeser) and her lethal kinfolk (Sterling, Parks and C. Ernst Harth). Baker (Crawford), the agent in charge of the operation, puts himself and his team in the line of fire to defend Weed, but it's not until the smoke clears on the film's explosive climax that the surprising identity of the plot's mastermind is revealed.
Play for a chance to instantly win $100K and become a smokin hot assassin!
Train yourself in racetrack driving, marksmanship, parachuting or learn to fly....sky's the limit! Hone your skills and become the best with $100,000 to help you every step of the way. You get up to 15 game plays per day through January 31, 2010 to help make this dream a reality, so start playing now!
Enter and see official rules at
www.universalstudios.com/smokinacesinstantwin
-
Assassins' Virtual Lineup
: Users will get the chance to experience what it's like to be part of the group of assassins by putting themselves into the action through a virtual "line-up". The user will choose from the deadly assassins in the film such as Ariella Martinez, Lazlo Soot, etc. and upload a photo that they are able to share with friends or post to their social networking sites!
-
Assassin Alias Name Generator
: Users will be able to upload their photo into a virtual "mugshot". Once their photo is uploaded into the mugshot, they will be prompted to answer a few multiple choice questions to determine their assassin alias. When the user finishes uploading their picture and answering the mini-quiz, they receive their full Assassin ID Card featuring their image, new "Assassin Name", and "Arms Specialty."
-
Assassin Bracket
: Similar to a sports bracket, the Assassin bracket pits various assassins from the Smokin' Aces franchise against each other, allowing users to interact with the various choices. Each week users vote on who would win in a battle. Users can scroll over each assassin to learn about them (bio, stats, etc). Once the "winners" are chosen from each round, they move up the "bracket" to the next round and eventually one assassin will be crowned "The Ultimate Assassin".
-
To Die For Sweepstakes
: Users enter to win a trip to Chicago which includes Airfare/Transportation to Chicago, Hotel Accommodations, and spending cash!
-
Which Smokin' Aces Assassin are you? Facebook Quiz
: Users will be able to answer 10 questions to determine which Smokin' Aces 2: Assassins' Ball assassin they are most like. Once complete, they can post the results to their wall, and encourage their friends to take the quiz!
-
Smokin' Aces 2
: Smoke the Target Facebook Game: Users will be able to partake in a truly viral Smokin' Aces 2: Assasins' Ball experience. They will receive a notification letting them know that they have been assigned a mission. The user will need to guess the location of the target to make the kill, and will be given 5 hints. With every hint that they use, money will be deducted from their account. The game will feature 10 hits, and the user will be notified daily of their next mission notification.
Official Site
Universal Studios Home Entertainment is a unit of Universal Pictures, a division of Universal Studios (www.universalstudios.com). Universal Studios is a part of NBC Universal, one of the world's leading media and entertainment companies in the development, production, and marketing of entertainment, news, and information to a global audience. Formed in May 2004 through the combining of NBC and Vivendi Universal Entertainment, NBC Universal owns and operates a valuable portfolio of news and entertainment networks, a premier motion picture company, significant television production operations, a leading television n stations group, and world-renowned theme parks. NBC Universal is 80%-owned by General Electric, with 20% owned by Vivendi.