'Smash' Star Katharine McPhee: 'In Episode Five I Take Off All My Clothes'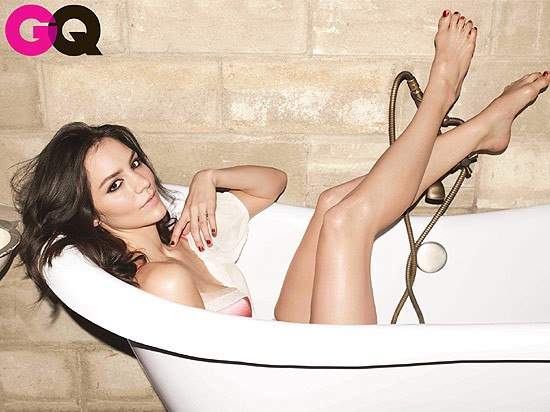 Katharine McPhee takes center stage in NBC's new show Smash, and the sexy star has three big reasons everyone should be watching - especially all the guys out there whose girlfriends want them to share the experience.

She tells the March issue of GQ magazine, "Okay, how about this: What if I tell your readers that in episode five I take off all my clothes?"

While Katharine is only joking, she does reveal that the show is more than just a musical drama and guys shouldn't be intimidated or think it's like that other music show on rival Fox.

"I can understand why guys wouldn't be into Glee. You know, that's a pretty heavy musical show. That show does, like, six songs in an episode," she says. "We'll do, at most, three."

If that doesn't get the guys to tune in she's got one last way to get the guys watching - brute force!

"Listen, I go see all the guy movies, so now I know I love them. But you have to be open to it. I would say to the girlfriends out there: Just nail him down, make him watch an episode with you."

See more of Katharine in the upcoming March issue of GQ and at GQ.com; and if it's any indication, the show is sure to live up to its hype.