'Smash' Review: 'Pilot' Lives Up To The Buzz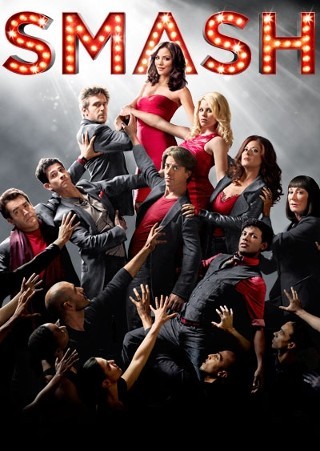 When I first heard of the idea for Smash, I thought, "How is this going to work?" The answer is, "Pretty fantastically, actually."
The general premise of the series comes together pretty quickly. While hopefuls Karen (Katherine McPhee) and Ivy (Megan Hilty) search for their big break, writing partners Julia (Debra Messing) and Tom (Christian Borle) talk about new ideas, and thanks to Tom's new assistant, they start mulling the idea of another Marilyn Monroe musical. Tom is a friend of Ivy's, and has her in mind for the lead, while Karen finds reassurance in her boyfriend Dev (former Spooks star Raza Jaffrey) and tries to get her parents to stop worrying about her.
Meanwhile, producer Eileen (Anjelica Huston) is in the midst of a bitter divorce, but she's around to convince Julia and Tom to work with domineering director Derek (the terrifically fabulous Jack Davenport), who swears he won't do it and then does it. Cue the show's first musical number, "The National Pastime," which I still can't warm to for some reason, and it's not Megan Hilty's fault. Julia loves what Derek has done, but Tom has bad blood with Derek, whom he calls "a terrible human being."
And so the glitzy drama begins, with Derek making passes at both his female leads (and landing one), and everyone being a little bit neurotic, but all of them in this big, crazy thing together. Here's a show for those of you who love musicals, or for those of you who wanted something a bit older than Glee, or who like your shows to be big spectacles. Even if you're not a fan of the theater, there's a lot to like about this show. For one, it is absolutely one hundred percent not in the many boxes that we're used to on television, something that I will wholeheartedly always encourage. And furthermore, it's a lot of work to put in a big musical number every week, and I want to recognize that effort, too. You can't say the crew on this show phoned it in.
There's a big cast here, but all of them earn their places. I like Katherine McPhee in the co-lead role, and I enjoy Megan Hilty too, though I admit it's a bit harder to buy her as a struggling actress when I know she's already proven herself in plays like Wicked and 9 to 5. Debra Messing clearly leaves Will & Grace behind, and Anjelica Huston needs no introduction.
Yet for all the talk about the leading ladies, my favorites in the cast are the men. I've been a Jack Davenport fan for more than a decade, and I've just been pleading for him to find a good TV role; I really think this could be that role, as he disappears so much into the part that even I wanted to slap him...repeatedly. He breaks type to play the antagonist, and deliciously so, while giving us an understanding as to why Derek is that way and showing us more than that one side of the character. I've also got to tip my hat to Christian Borle, who's manic and witty and there's just something about him that embodies the energy of the show as a whole.  And lastly, as a longtime Spooks fan, it was a treat to see Raza Jaffrey again; I hope he gets to do something more than be "the boyfriend," because he has the chops for it.
Normally, I'd be leery of a show like this turning into melodrama, but it's a given that Smash is going to be over the top and make no apologies for it, so I can accept it for what it is. If I have one significant concern about it, it's whether or not a big enough audience will exist for it. I think having it follow The Voice is a sharp move, but I hope that people won't feel like they need to be a Broadway buff to check it out, or start making comparisons to Glee and judge Smash the same way, as they're two entirely different things.
I suppose the best thing I can say about this series is that I worked in theater through my high school and college years, and I've spent time both on Broadway and in London's West End. While Smash doesn't necessarily match up with anything I experienced, I don't really need it to. It reminds me of what I enjoyed about working in that world, and leaves me with a smile on my face, and that's something I'm more than happy with.
Smash is the best new show of this TV season, and it should live up to its title.
(c)2012 Brittany Frederick/Digital Airwaves. Appears at Starpulse with permission. All rights reserved. No reproduction permitted.