'Smash' Recap 113 'Tech': Swap Your Partners, One Two Three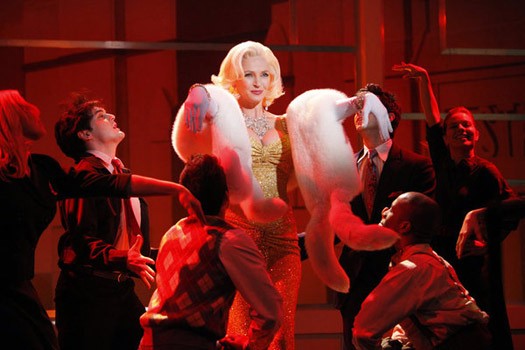 Last week on Smash, things seemed to be looking up for Julia when husband Frank returned home, and for Eileen, who is getting closer to Nick. But Rebecca Duvall's reign of terror continues, and Karen's new friendship with Rebecca seems to be yet another excuse for Dev to get closer to RJ.
Everyone's packing for Boston, where the tech week will begin. Tom serenades Sam with a piano version of "Another Opening, Another Show." Julia snuggles with Frank, as son Leo teases that they've been at it for a week. It's Karen's first big show, and she's like a kid in Candyland, completely in awe of the bustle, the beauty and glamour of the old theatre the troupe is occupying, and loving the energy and camaraderie of being on the road with the other chorus members. It's organized chaos as the cast and production crew rush to and fro with costumes and gear.
Rebecca seems terrified as she stands on stage, looking out at the seats. Derek arrives, and she scuttles away, unseen. As Derek contemplates a staging problem, Ivy arrives with coffee for them both. She understands his problem, and makes a suggestion that is the fix. Derek agrees that she is a woman of many talents, and says, "and that is why I love you." Ivy's surprised to hear him say that.
Karen wakes to a phone call from Dev, who wants to visit her in Boston. She tells him that she has a roommate, and is working twelve hour days, so it might not be much fun for him. She says she'll call him back later.
As Derek worries over a prop, Tom wanders by with a suggestion. He's got a song for Karen and Ivy to sing. Derek says he's not adding a new song during tech week.
The actor playing DiMaggio runs up to Tom and Derek, and excitedly tells them that he's landed a pilot, and has to leave immediately for Las Vegas. Tom and Derek are shocked, but Derek just says that he'll re-cast with Michael Swift. Tom tries to tell Derek that Julia will not allow Michael back in the cast, but Derek says that he knows about Julia and Michael's affair, he just doesn't care. It's Tom's job to call Julia and tell her.
Rebecca primps in her dressing room, while Karen plays with the wig and props. Rebecca says the wig probably looks better on Karen. Karen notices that Rebecca is nervous, and says that she always assumed that stage fright disappeared with time. Rebecca assures her that it's not that way at all.
Tom calls Julia, who's reveling in domestic bliss, but can't bring himself to tell her about Derek's decision. She hopes they don't need her in Boston yet, because things are going so well. Eileen decides she'll have to tell Julia herself, and heads back to New York.
Rebecca overhears Ivy talking about Derek's words, and their plans for having dinner together to celebrate his birthday. She takes note that Derek's birthday is the next day. As the cast gather on stage, Rebecca finds out that her leading man has left the show, and has a mini meltdown about hearing this news in front of the cast. She stalks off stage, followed by Derek, and she complains that Derek never tells her anything, never talks to her. He says he doesn't have time, as they're in tech week, but she has to relax. He says he'll find her a better Dimaggio, and sends her off to Wardrobe to check on her costumes. He asks Ivy to stand in for Rebecca so that the stage lights can be adjusted.
Sulking in her dressing room, Rebecca tells Derek that she knows the cast thinks she's a joke. He tries to smooth things over, and ends by telling her about 'Marilyn's' fear of being considered a joke, of not being authentic, of having something to prove. He tells her to use that emotion, and to revel in her own star power. It's her escape from the terror.
Ivy's lurking outside Rebecca's door, eavesdropping. Evil Ellis dashes by, spots her, and says, "that's usually my thing." He assures Ivy that there's nothing going on between Derek and Rebecca. Derek emerges, and Ivy asks him if they are still on for dinner that evening. He says they absolutely are, and leaves, after kissing her on the forehead. Ellis assures Ivy that he will keep an eye on the situation for her.
Karen and another chorus member chat as they arrive at dress rehearsal. Karen thinks it's weird that she doesn't want the 'love of her life' around while they're working on the show. The other girl says that it's because they're in the middle of a 'war,' and civilians don't get it. It caused the breakup of her own relationship at the start of her career.