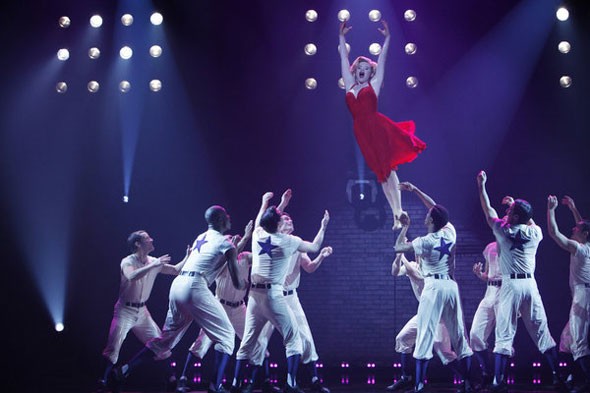 "Overture, curtain, lights!" "There's a broken heart for every light on Broadway." We know all the clichés, and, in a society awash with musical reality shows, we know that lightning can strike, and that the little, mousy, unknown with the big voice can be catapulted into overnight stardom.
Or so we'd like to think. In reality, it takes years of study, practice, and endless "go sees", humbling auditions, and menial jobs to pay for training and those courses supposedly guaranteed to catapult the wannabe into the starring role.
"Smash" follows the story of two female triple-threat (singing, dancing and acting) ingénues, vying for the coveted lead role of "Marilyn" in "Marilyn: The Musical"; Ivy Lynn, the sexy blonde who's been in the ensemble of every show on Broadway  and Karen Cartwright, the brunette "girl next door," innocent, eager, and bursting with raw talent.
The musical is only in pre-production phase; songs are still being written, as the show begins to take shape. The writers, Tom Levitt and Julia Houston, have their own backstory. They've been successful long enough to be wooed by the right people, but are still excited by the prospect of bringing something new to their craft. Tom has recently hired a new assistant, Ellis, to smooth his daily routine. It's Ellis, fascinated by musical theatre, and the legendary Marilyn Monroe, who plants the seed for the musical.
Julia's happily married, and has a teenage son, Leo. Her husband, Frank, runs the house and family, having left behind his career of high school teacher. Their dream has been to adopt a little girl from China, to complete their family. However, the process is arduous, and taking far more time than they originally expected.  
Of course, Broadway, like Wall Street, runs on money. The financial backer, or "angel," who wants to bring "Marilyn" to the stage is Eileen Rand. She, and her soon to be ex-husband Gerry, have backed several productions, including an adaptation of "My Fair Lady" that was due to begin soon. However, with divorce negotiations at a standstill, she needs a new project to shepherd.