'Smash' Episode 3 Recap - Secrets, Lies And Super Spies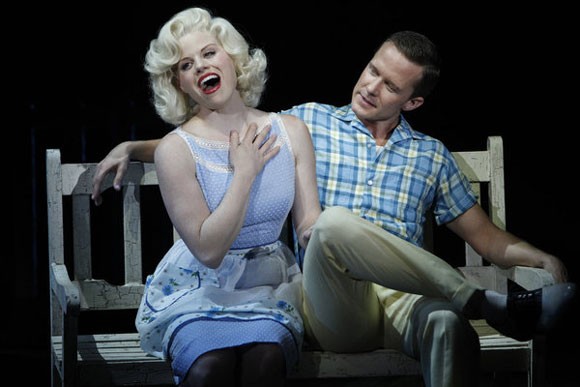 I'm struck this week with how key emotional scenes in this episode of 'Smash' have been staged at a different tempo from other television shows. There is a slower pace, and camera shots linger on faces for longer than one expects – the effect, overall, is of watching a televised theatre production. I also noticed a difference in the hair and makeup of certain characters, most especially with Debra Messing's 'Julia.' The first two episodes seemed to favor a contemporary cosmetic approach, but this week had the look of classic Hollywood, circa 1940. For me, these changes bring a touch of class to what could easily devolve into a musical primetime soap opera.
With the lead in "Marilyn: The Musical" going to Ivy Lynn, the focus this week shifts to the other characters involved in producing the show. Director Derek seems to have a quick and slick answer to every question. Aileen's ongoing divorce negotiations with partner and soon-to-be ex Jerry leave her cash poor, and have potential investors doubting her ability. But the tension between Aileen and Jerry is too delicious for me to believe that the thrill is gone. Julia reveals a secret past to Tom, unaware that Ellis is listening. Ellis' apparent adulation of Tom may be hiding his own ambitions. Karen struggles to keep her Broadway dream alive.
Ivy and Derek's post-coital pillow talk reveals that Derek is worried about the show's progress, while Ivy, fixated on 'the real Marilyn' wants to work with him on characterization. He says they already are, and then backtracks, saying he's just joking. Ivy's already wondering if she only got the lead role by having sex with the director. Her friends assure her that she's got a great part, and now a good looking boyfriend, so just enjoy the ride. Later, Ivy wonders why they only ever have sex at her apartment. Derek gives a long, involved explanation about how renovating neighbors have damaged his own space, making it unlivable.  
Aileen, running low on funds, sells her jewelry, but can't resist buying a pair of earrings inspired by a Marilyn Monroe film.  Aileen's having problems with potential investors. The men with the money wonder if she's capable of raising the money and putting on a production without ex-husband and partner Jerry.
Derek has a meeting with Karen, reassuring her that they only chose Ivy over her because of Ivy's experience. He says she has way too much talent to be in the ensemble, but is wise to be patient. It could take five years for the production to finally hit the stage, and a lot could happen in that time. Karen's boyfriend, Dev, joins them, saying he wanted to meet the 'great director' he keeps hearing about.  Dev and Derek, both British, spar verbally over their origins and education. Back at Dev's apartment, he agrees that Derek is a jerk, but gloats that he got to go home with the girl.
Auditions continue, with Derek feeling overwhelmed with casting. They've narrowed down their top picks for the characters of Joe DiMaggio, Arthur Miller and John F. Kennedy, but are having trouble getting a commitment from the actor they want for DiMaggio, Michael Swift.  Julia doesn't seem convinced that Michael is the right actor for the part, so Derek and Aileen decide to see him perform in a Bruno Mars show, where he sings and dances to a cheesy, over the top, interpretation of 'Grenade.' Of course, they love him.
Over drinks post-show, Aileen and Derek discuss Michael. Aileen's ex, Jerry, drops by their table, asking Derek to give his production of "My Fair Lady" another chance. Jerry then compliments Aileen on her new earrings, asking who gave them to her. Without blinking, Aileen tosses her drink in Jerry's face.
Karen's  friend  says that she should be happy to have any part in show business, but worries that the hours needed to workshop the play, on a salary of $200.00 a week, will cause Karen to lose her steady waitress job. Karen's not sure if she can spare the time and energy to attend a friend's baby shower in Iowa, where her parents live. Dev encourages the trip, but Karen admits that she's worried about money. Dev assures her that money shouldn't be a factor – he can cover what she needs.