'Smallville' Supergirl Laura Vandervoort Reveals New 'Whose Skin Are You In?' PETA Ads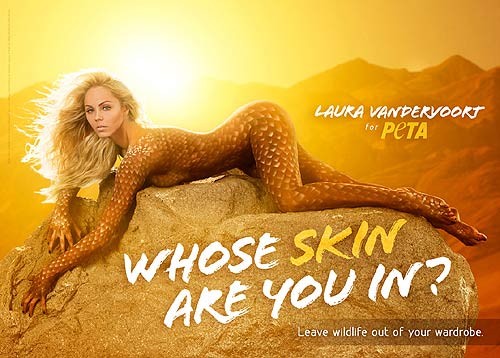 Sexy Smallville star Laura Vandervoort is the star of a pair of new PETA 'Whose Skin Are You In? Leave Wildlife out of Your Wardrobe' ads. The Canadian actress stripped down and had her naked body painted to resemble a lizard's skin for the campaign, which was revealed by Vandervoort herself at Toronto's Fashion Week.

In her interview with PETA, the star says, "Three or four alligators have to die for one purse. They nail the snake's head to a tree while it is still alive and peel its skin off.

"Because they are cold-blooded creatures, they take that much longer to die, so they suffer that much longer."

Vandervoort hopes her new campaign enlightens apparrel shoppers and inspires them to stick to "mock croc" and "fake snake" fashions.

"[Y]ou wouldn't skin your dog to wear to an event, to go out on a date, just for a status symbol. So please, have some compassion for animals," she says.

Vandervoort joins a growing list of celebrities who have shed their clothes to help the organization's animal protection efforts; including, most recently, Angela Simmons and George Clooney's ex-girlfriend Elisabetta Canalis.
See them all in the slideshow below, including Laura's second ad!
Learn more about how you can help prevent animal cruelty - visit PETA.org
Laura Vandervoort's Exclusive Interview Video (**WARNING** there are some graphic images of animal cruelty in the video below.)