Slipknot To Stream Sonisphere Performance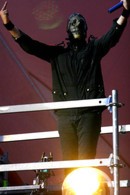 Rockers Slipknot will share their upcoming set at Britain's Sonisphere festival with fans all over the world by streaming the gig over the internet.

The band will take to the stage at the rock event at England's Knebworth House on Sunday and the gig will mark the band's first U.K. show since the death of bassist Paul Gray last year.

They have asked fans to observe a two-minute silence prior to their set in memory of the late rocker, and they have now revealed they will be streaming their performance live on the internet so fans across the globe can see the show.
 
A statement from the band reads, "England has always been a special place for this band from the very beginning. We can't think of a better way to culminate our celebration of Paul's life than to share it with the maggots at Knebworth and the millions more watching around the world. This is not to be missed."

The gig will be streamed on the band's official website and that of the festival. Other acts due to take the stage over the weekend include the 'Big Four', Slayer, Anthrax, Megadeth and Metallica, as well as Biffy Clyro and Weezer.