Slipknot To Return To The Studio In 2013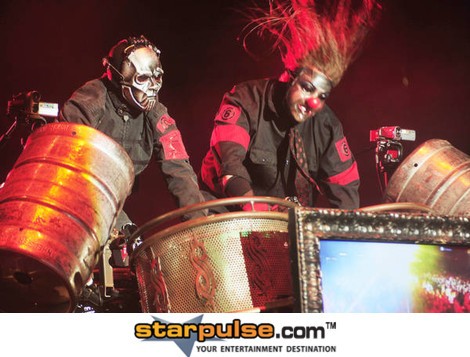 Heavy rockers Slipknot's DJ has revealed the band will return to the studio early next year to record their first album since the death of bassist Paul Gray.

Several band members feared there would be no future for the masked group following Gray's 2010 death, but festival dates last year brought the act back together and now Sid Wilson has announced there are plans to record a follow-up to 2008's All Hope Is Gone next year.

Wilson tells NME.com that the bandmates will reconvene once frontman Corey Taylor completes his touring schedule with side project Stone Sour.

He says, "We've got Mayhem Festival this summer and, after we break for winter and Stone Sour are done with their tour, we'll be back in the kitchen with Slipknot. Actually, before Stone Sour finish touring we'll be in the studio preparing for Corey's return, keeping the irons hot."

But the DJ insists the recording process won't be an easy one without the band's longtime bassist: "It'll be tough... Slipknot's the biggest thing in all of our lives, but we're always going to come back to it. We're going to get it done. I'm excited and I'm ready to do it."

Slipknot will headline the Mayhem Festival tour in North America this summer alongside Motorhead, Slayer and Anthrax.