Slipknot Drummer Making Scrapbook Of Fan Art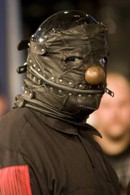 Slipknot drummer Shawn Crahan is calling on the band's fans to help him fill a new scrapbook project.

The star is keen to compile drawings, photos and poems from the band's followers and bind the pieces into a special book called The Maggot Bible - a reference to the group's nickname for fans.

Posting a link to new website MaggotBible.com on his Facebook page, he explains, "What I would like to create with you is a book that can bring these ideas together in a tangible way and at the same time, artistic form.

"It will be something we can hold and carry around with us and use as a reference through the different circumstances of life. When you feel a certain way and you think you're alone, you can open this book and read stories, poems and glare at photos or other mediums of communication to help you breathe and realize you are not alone. You have never been alone."