Slideshow: Other Actresses Worthy Of 'Cougar Town' Residency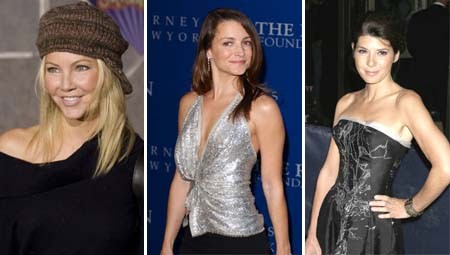 Cougar Town
premiered on ABC last week, shining the spotlight on a subject that has fascinated young men since the beginning of time.
Courtney Cox
is a perfect choice to head the cast, but unfortunately that seems to be where the good decisions end. The only other cougar on this show is
Christa Miller
(the sort-of attractive female friend from
The Drew Carey Show
), and she's not so much a cougar as she is someone who inspires the phrase "She must have been hot back in her prime." The female cast is rounded out by
Busy Philipps
, who is certainly attractive, but only 30 and still far removed from her cougar years.
So this is cougar town? More like cougar block. One and a half cougars? Anyways, there were better casting choices out there. Here's the population of a real cougar town.
Heather Locklear
- If there was an actual cougar town, Heather Locklear would be the mayor. She might as well be the definition of the word. Only a few years shy of 50, and she still makes regular appearances on many fantasy top ten lists, and a few top fives.
- Click pic for next page -