Slideshow: Heidi Montag, Spencer Pratt, & Others Arrive In Costa Rica For 'I'm A Celebrity Get Me Out Of Here'

"
I'm A Celebrity Get Me Out of Here
" will take 10 celebrities and drop them in the heart of the Costa Rican jungle to face some disturbing---but comedic---challenges designed to test their survival skills. America is the puppet master, controlling their favorite celebrities by putting them into challenges and tasks to win food, supplies and luxury items. In each episode, friendships will be tested, hilarity will ensue and viewers will decide which celebrities stay or go. The last remaining star will be crowned King or Queen of the Jungle, winning a substantial cash prize for their favorite charity.
The reality series will premiere this Monday, June 1 at 8pm EST/PST on NBC.
- Click pic for next page -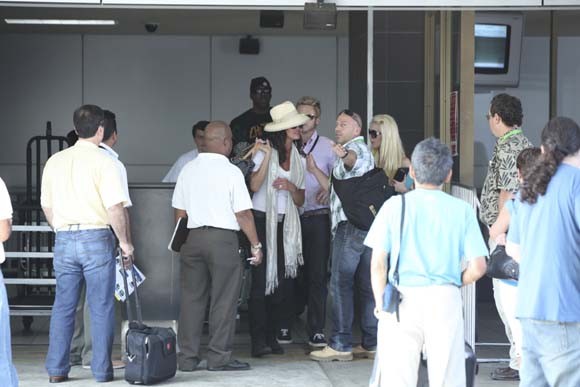 Other cast members include TV star
Janice Dickinson
("The Janice Dickinson Modeling Agency"), reality TV's prom king and queen
Heidi Montag
and
Spencer Pratt
("
The Hills
"), actor
Stephen Baldwin
("
The Usual Suspects
"),
Lou Diamond Phillips
(
Courage Under Fire
, La Bamba), NBA great and TV personality John Salley ("Best Damned Sports Show Period"), and professional wrestler and beauty queen
Torrie Wilson
. Additional celebrity contestants will be named soon along with the hosts of the show. AND…. Patti Blagojevich ---yes, the wife of ex Illinois Governor Rod Blagojevich.