'Sleepy Hollow' Review: Episode 'The Sin Eater'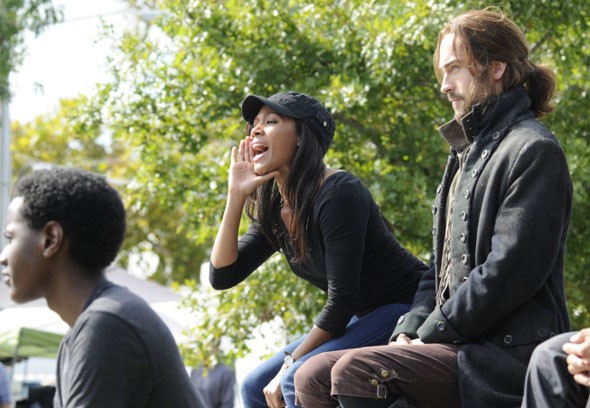 Remember when the synopsis for Sleepy Hollow was first released and it sounded very, very stupid? It was yet another modern day twist on an old tale and a procedural, fantasy, biblical drama. All of those elements together don't exactly add up to a well put-together and entertaining show. Honestly, who expected a funny, smart, emotional show out of a tired concept? Sleepy Hollow is a far more quality show than I ever expected.
"Sin Eater" perfectly highlights many of the things that the show does right on a regular basis, both big and small. Although humor is often a small part of the show, it's usually sprinkled expertly throughout each episode. The opening scene is a great example of that. It gives Abbie and Ichabod a chance to interact in friendship rather than around spookiness and shows off Ichabod's time displacement.
Abbie Mills is another huge asset to the overall show. Strong female protagonists in case-of-the-week shows are rare. Since Sleepy Hollow is the tale of Ichabod Crane, it would be completely expected for the show to center around him. But it's to the benefit of the show that it be Abbie's story. She spends most of "Sin Eater" trying to save Ichabod, both by looking for who kidnapped him and searching for the mysterious Sin Eater who can supposedly unlink Ichabod from the Headless Horseman. It's Ichabod who gets to be the damsel in distress. Then when he decides it's better to sacrifice his own life to kill the Horseman, the decision becomes about her as well, as a true partner.
The addition of John Noble as Henry Parish, the Sin Eater, is absolutely genius. I don't know how long he'll be on the show or if he'll even pop up again, but as anyone who has ever seen Fringe know, he's always benefits every scene he's in. Parish is a meek, closed-off man who feels burdened by his ability to take a person's sins from the depths of their souls and eat them up. (He literally eats a piece of bread with Ichabod's blood on it. Gross.) It's a character I could definitely spend more time getting to know, but his abilities are more suited to a once or twice a season sort of thing. I'd love to be proven wrong, though.
The last great element of Sleepy Hollow is the two featured relationships. First is between Jenny and Abbie, a sibling relationship so destroyed by past resentment. Their history is so heated that it seeps into every interaction they have in the best way possible.
The other amazing relationship is between Abbie and Ichabod. Their friendship is so rewarding to watch, especially in this episode. It was nice to see them doing something so normal in the opening scene. I'd like to think Abbie shows him tons of American pastimes off screen, such as teaching him the wonders of pizza, reality TV, and video games. But it's the emotional connection illustrated in this episode that really got to me. Abbie explains to her sister how he came into her life at the exact right time. Whether you root for their friendship or a future romantic relationship, it's a sweet sentiment.
I may have finally gotten used to the many dream/trance sequences, but the one element of the show that still doesn't work for me is the flashbacks. Tonight, Arthur Bernard, the freed slave, underground revolutionist, was the center of these flashbacks. Bernard was the reason Ichabod decided to betray his country and join Team USA. Of course this is relevant information but the way it's performed on the screen is not always compelling. This episode did feature a red coat turning into a demon for no reason whatsoever, which I always enjoy. Still, if the flashbacks are going to be necessary, there needs to be a bit more of the show's signature humor and scares instead of just costumes and accents.
Other Musings:
I love that Abbie is the sort of person who yells at baseball games because it's unexpected but so in character. But did you notice that Abbie and Ichabod were the only ones at the game?
Ichabod: "Yes you, basketface! I thought only horses slept standing up!"
Abbie: "You are home, Crane." Ichabod: "I look forward to you expanding my horizons." And then he bows? Too sweet for an opening scene moment. Love it.
Scariness meter of "Sin Eater": Not that scary. We get the return of The Headless Horsemen and some creepy witches, but zero decapitations.
Ichabod figures out who Rutledge is a freemason just by looking at him with some Psych-level clues. He's definitely a detective.
We get to see Ichabod meet Katarina in the flashbacks. Their meeting was as boring as you'd expect from a flashback on this show.
I'm not sure that Abbie's speech about Ichabod coming into her life at the right time was exactly earned, since it's so early in the season, but I love it anyway.
So the Red Coats are demons? Or just that one guy? That's a bit easy.
The flashbacks seemed so pointless to me because the freemasons wanted to hear the story so that Ichabod would be okay with sacrificing his own life. I bet there was a less roundabout way of dong that.
Abbie: "Too many people I never got to say goodbye to. You're not going to be one of them."