Slayer Guitarist Jeff Hanneman Pulls Out Of Summer Tour Over Spider Bite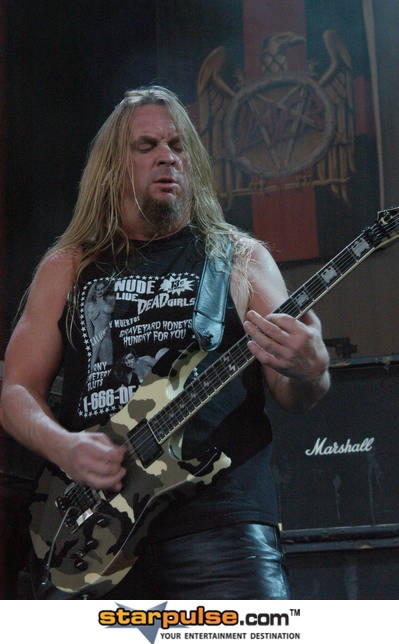 Slayer guitarist Jeff Hanneman has been forced to sit out the group's upcoming tour to properly treat a spider bite.

The rocker almost lost his arm and was placed in a medically-induced coma following the creepy encounter last year, and has since undergone several operations to remove the dead and dying tissue from his arm.

In an open letter to fans announcing his decision to sit out the tour, the band states, "It's been about a year since he got out of the hospital, and since then, he had to learn to walk again, he's had several painful skin grafts, he's been in rehab doing exercises to regain the strength in his arm.

"We were all excited when he joined us onstage for the encore a year ago at the Big Four show at Coachella. Since then, we've given him all the time and support he's needed to continue his rehab so he can come back to the band fully recovered and able to deliver the kind of shows we all want him to.

"While Jeff's been doing some writing and has been coming to rehearsal over the past several weeks, he has decided he needs to take more time to continue his rehab. While we want him back onstage with the band, all of us support his decision."

Exodus star Gary Holt will continue to fill in for Hanneman for summer concerts in Europe.

In a 2011 interview with Classic Rock magazine, the rocker revealed he never even felt the spider bite but could see the "flesh corrupting" an hour later after he fell ill and dashed to a nearby hospital.

He recalled, "The arm was real hot. I got to the emergency room, and thank god the nurse knew straight away what it was. By chance, although it's pretty rare, she had seen a case a little while before. At that point, I was an hour away from death.

"Unbelievably, the doctor was a Slayer fan and the first thing he said to me was: 'First I am going to save your life. Then I am going to save your arm. Then I am going to save your career.'"