Slash T-Shirts Banned From London Guns N' Roses Concerts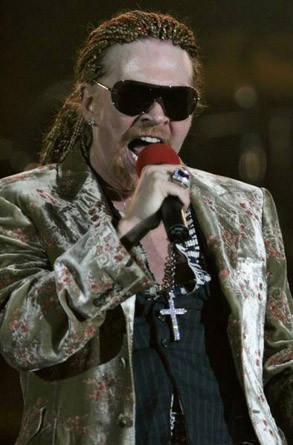 Guns N' Roses reportedly banned fans wearing T-shirts sporting former bandmate Slash's logo and image from their London gigs on Thursday and Friday.

Reporters representing British music magazine NME uncovered the truth when one fan complained about getting stripped of his Slash T-shirt by security upon entering Guns N' Roses' O2 Arena gig in the U.K. capital on Thursday night.

The source asked security staff if all fans wearing the guitarist's merchandise were being told to disrobe and was reportedly told, "We were told by the management not to allow anyone into the O2 Arena who is wearing a Slash T-shirt and we are asking anyone who is to remove it and if they refuse they will be turned away."

James Revell, the fan who alerted the NME to the T-shirt fuss, tells the magazine, "I believe they asked me to do this (take my shirt off) because (frontman) Axl Rose has some problem with Slash and if he saw me wearing the shirt he might have stormed off stage.

"I have never experienced anything as insulting as that at a concert before."

And the gig was further marred by the band's now-traditional late arrival at the venue.

Revell adds, "I had to sit there... and wait for Axl to turn up well over an hour late... (and) we could only stay to watch three songs as we had to catch a train back. I think that Axl Rose doesn't appreciate his fans or anyone for that matter, he needs to grow up and stop acting like a child."

Guns N' Roses wrapped up their U.K. tour on Friday night with a second show at London's O2 Arena.

Rose and his former guitarist have waged a furious war of words with each other ever since Slash quit the group in 1996.