Slash Joins Call For Rory Gallagher Honor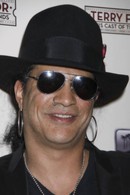 Rocker Slash has joined a growing movement committed to landing late Irish blues great Rory Gallagher an induction into the Rock & Roll Hall of Fame.

The former Guns N' Roses star is a huge fan of The Mississippi Sheiks star, who died from complications following a liver transplant in 1995, and he thinks it's high time the Irishman became a member of the famous Cleveland, Ohio museum.

Guiding fans to a petition site calling on Gallagher's consideration, Slash tweets, "Please sign this petition to help get Rory Gallagher inducted into RRHF."

The petition reads, "We, the undersigned, declare that Rory Gallagher, Irish Blues guitarist and songwriter, should be inducted into the Rock N' Roll Hall of Fame as soon as possible. Rory Gallagher is now eligible for induction as his first record was released more than 25 years ago.

"Rory has legions of fans the world over, and his music and guitar playing continue to captivate fans and musicians worldwide. Indeed he has influenced and inspired many artists including Slash, Brian May, Eric Clapton, The Rolling Stones, Bob Dylan, John Hammond, The Edge, Gary Moore, Joe Bonamassa, and was invited by Muddy Waters to play on one of his albums.

"He left behind an outstanding back catalog of songs and his live performances are stuff made of legend. Rory Gallagher played the Blues with his heart and soul. No one played like him, no one sounded like him."