Slash Falters In 'Top Gear' Challenge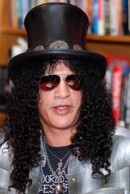 Rock legend Slash turned the air blue as he tested his driving skills in a celebrity racetrack challenge on British TV show Top Gear.

The former Guns N' Roses guitarist cursed up a storm while behind the wheel of a Kia hatchback for the show's Star in a Reasonably Priced Car segment.

Producers were forced to bleep out his expletives as Slash shouted, "Alright, let's not f**k this up!" while speeding along the course.

However, Slash admits the wet track was difficult to navigate following heavy showers in Britain last week.

He tells host Jeremy Clarkson, "It was actually pretty tricky when I first got there. The way your track's laid out, it's like it's not really there. It's sort of made up! It's got all kinds of turns and stuff that are sort of penciled in! It was an interesting day."

The presenter then told Slash his lap was timed at one minute, 49.08 seconds - putting him towards the bottom of the celebrity leaderboard just behind rapper will.i.am's score of one minute, 49.04 seconds.