Skunks Invade 'Grown Ups 2' Set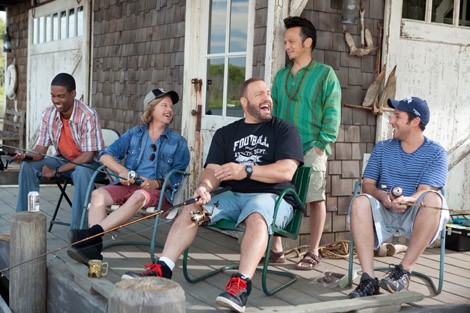 "Grown Ups 2" is causing a stink in Massachusetts. Adam Sandler has been shooting the sequel to his hit 2010 comedy in the North Shore region of the state, but the crew ran into trouble after building a sound stage in Phillips Park.
 
Several skunks have moved into a group of trees planted for the film and have been stealing food from the catering tables.
Swampscott local animal control officer Diane Treadwell is in charge of removing the animals. She told the Boston Herald, "They built the set on marshland near a wooded area and the set isn't sealed off so the skunks come in and out as they please. There's been so much food around, it's been an ongoing thing."
 
Fellow officer Laura Consigli, who was called to the set twice on Tuesday, adds, "I caught them and released them about a half-mile away because the law states we can't relocate them that far from their habitat. They have been pretty well-behaved, though. They haven't sprayed anybody. But the food has been a big draw. And all those new trees that they planted? Well, it's a whole new backyard for them."
 
"Grown Ups 2" will hit theaters next year. It also stars Taylor Lautner, Salma Hayek and Steve Buscemi.