SKIP/PAUSE: 'Feel The Steel'?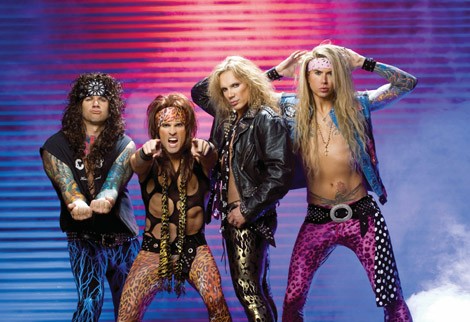 When a parody project comes along, it will go one of two routes - the high road featuring homages to the awesome parts of the genre and mockery of the silly parts…. Or it'll look like a "Scary/Epic/Disaster Movie" and fall flatter than the lows of the genre it parodies. With news of Comedy Central adding a Steel Panther "documentary" show to their 2010-2011 developmental line up, eyes are on what could be the next Spinal Tap. While comedy music is nothing new, one band has set out to parody 80s hair metal and pay homage to its awesomeness – is it good enough to pause or should you skip?
"Death To All But Metal"…2:29
"Asian Hooker"..…………… 4:02
"Community Property"… 3:38
"Eyes Of A Panther"……. 3:37
"Fat Girl (Thar She Blows)"4:38
"Eatin Ain't Cheatin"……… 3:50
"Party All Day"........…… 3:02
"Turn Out The Lights"…… 4:24
"Stripper Girl"………………. 3:34
"The Shocker"………………. 4:10
"Girl From Oklahoma"… 3:56
The band name is STEEL PANTHER, which sounds like something straight out of the 80s. Well, if you believe singer Michael Starr, guitarist Satchel, drummer Stix Zidinia, and bassist Lexxi Foxxx, they are from the 80s and mysteriously vanished without a trace for 20 years:
But in reality, their debut album Feel The Steel is a riotous way to announce their arrival. The opener, and debut single, is aptly titled "Death To All But Metal". Pop culture fixtures like Britney Spears, Dr. Dre, and Sheryl Crow are put on blast in a no holds barred verbal assault. The album's opening lines are, "F*** the Goo Goo Dolls/ they can s*** my balls/ they look like the dogs that hang out at the mall…" This is surely a love it or hate it affair. The whole thing is over-the-top from the gimmick (the drummer's name is Stix Zidinia (say it fast and you'll get the joke)) to the lyrics ("Eatin', I ain't cheatin'/ you should know that suckin' ain't f***in'…"), there is nothing subtle about Steel Panther or Feel The Steel in its entirety.
As a parody of the hair metal that was prominent in the 80s, they wisely chose the second single to be "Community Property". A clear power ballad about being on the road and missing someone, it also works in the rampant infidelity on display in hair metal videos and the 80s in general. Upon listening to the song, anyone who knows 80s hair metal can imagine what the video would look like – black and white, live footage from tours, backstage shenanigans, and writing lyrics on the bus about missing someone. And you would be exactly right.
But for all of their gimmicks and tongue-in-cheek nature, it's easy to overlook the fact that Steel Panther are a legit (albeit hair) metal band. The band aptly chooses "Eyes Of A Panther" at #4, after an ample amount of jokes. While the lyrics are still fun and sexually-charged, the band gives it their all to prove they're more than their jokes. Throughout the album, the band never fails as a unit or individually. Stix will leave you head-bobbing with perfectly timed drum hits and the obligatory woodblock every now and then. Lexxi Foxxx gets down and dirty with the bass throughout. Michael Starr goes from charmingly soft-spoken ("Girl From Oklahoma"), to singer ("Party All Day"), to note-belter ("Eyes Of A Panther"), showing a versatile range. Satchel's guitar solos never disappoint, but the acoustic guitar on "Girl From Oklahoma" makes him truly a guitar hero.
The songs are all individually catchy, with simple choruses that beg to be sung along to. I had "Party All Day" stuck in my head for hours after my first listen through, with its "woah-oh oh-ho HEY HEY HEY/ F*** All Night and Party ALL DAY!" declares singer Michael Starr. I enjoyed every song, though I would say I felt more inclined to skip "Stripper Girl" upon later listens. Still, one "meh" song in an 11-track set is still A-worthy in my book.
9/10 – It's not for everyone, but if you've got a good sense of humor, like your music hard and fun, or like things over-the-top, then Steel Panther is for you. I highly encourage you to Pause and give it a go. If nothing else, you'll know about Steel Panther before the rest of your friends do.