Six 'The Voice' Artists Return To The Show: Where Are They Now?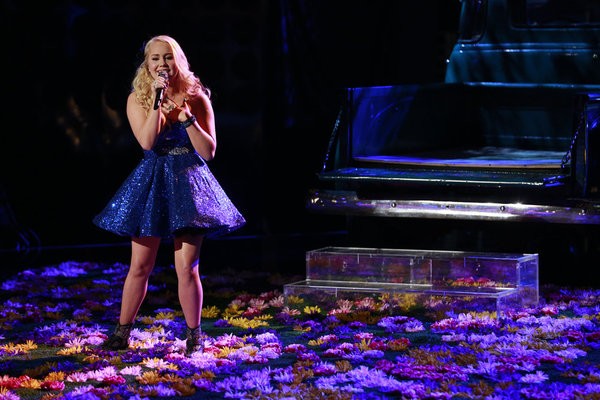 Team Adam's Tony Lucca made an appearance in the Sprint Skybox, and for those of you wondering why he didn't perform, don't worry: he wasn't snubbed. "It's about getting the opportunity right," he said. "They've talked to me about coming back for Season 4. When there's a radio campaign, when there's a single, when the record's ready. The idea of rushing something just for the sake of doing it tonight wasn't in the cards."
After signing a deal with Adam Levine's 222 Records and recently finishing a nationwide concert tour, Tony is hard at work on that next album. "Right now I've gone from road mode to writing mode. I'm writing a ton, working with some great writers and producers. The record's coming along nice. I'm excited about it," he said, explaining that the new material will be "more of a continuation of the work I did on the show."
What was it like for him to return to The Voice? "It's cool to just be a spectator and watch these guys go through this marathon as opposed to being in it," he confided, though he doesn't look back on his own experience any differently. "I feel like I had a pretty decent perspective while I was on the show," he said. "I feel like I did my best work. I feel like I took advantage of the opportunity to its fullest, which is all you can ask to do."
Team Blake's Raelynn returned to perform her new single 'Boyfriend,' which was written by two other Voice contestants - Team Adam's Nicolle Galyon and Team Christina's Hailey Steele, who was one-half of the duo The Line. Nicolle and Hailey caught fans up on what they're doing post-competition.
"I just signed a publishing deal with BMG Chrysalis Nashville in August, so I've been writing for my record and doing stuff like this. We've been writing a lot," said Hailey. But just because she's writing doesn't mean she's stopped performing. "I'm opening a couple shows for Scotty McCreery this week," she added.
"Right now I'm kind of in Raelynn World and that's a good thing," added Nicolle, who released the EP Child of a Country Sun after her tenure on the show ended. "I'm writing almost her whole record with her at this point. The coolest thing that's come out of this is that I'm co-producing the record, which is not something that was even on my radar. I'm really excited to take the challenge."
"Just coming back in this capacity makes it come full circle," Hailey said of returning to the show. Agreed Nicolle, "As awesome as the show is, when you leave it feels like they broke up with you a little bit. So it's like getting back together with an old boyfriend or something and everybody making amends."

She added that the final results of the TV competition didn't mean the end of the world for either of their careers. "Look at us tonight, we're winning. We just wrote a song that's at like number eight on the country charts right now. [Hailey]'s singing backgrounds on the song [and] I helped co-produce it," she explained. "We didn't lose. We may have lost our battle round but we didn't lose."
In addition to the folks who walked the red carpet, Team Blake's Gwen Sebastian (read my interview with her) and Team Cee Lo's Justin Hopkins (read my interview with him) were in the studio audience on Tuesday. She recently released the single 'Met Him in a Motel Room,' while his live acoustic record This Could Happen Anywhere dropped earlier this fall.
And if that's still not enough of The Voice for you, Team Cee Lo's Jamar Rogers released a new single and Team Blake's Erin Willett dropped her debut EP this week as well. Stay tuned for coverage of those new releases.
The Voice begins its two-part finale on Monday at 8 PM ET/PT on NBC.
For more from Brittany Frederick on The Voice, visit Big Red Chairs and follow me on Twitter (@bigredchairs).
(c)2012 Brittany Frederick/Big Red Chairs. Appears at Starpulse with permission. All rights reserved. No reproduction permitted.