Six 'The Voice' Artists Return To The Show: Where Are They Now?
The Voice welcomed home several members from its sophomore class on Tuesday night. Team Cee Lo's Juliet Simms, Team Christina's Chris Mann, and Team Blake's Raelynn all performed, while Team Adam's Tony Lucca and Nicolle Galyon and Team Christina's Hailey Steele were also in attendance. Big Red Chairs caught up with several alumni on the red carpet Tuesday to talk about their post-show pursuits.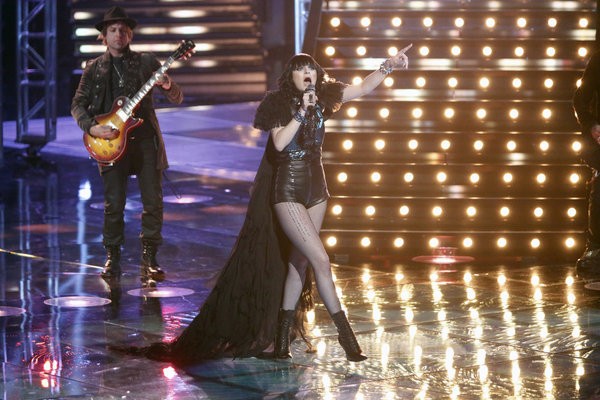 "Everything's been great, busy, traveling, recording, writing, playing shows," said Juliet, who performed her new single 'Wild Child' and revealed that her full album is on course to arrive "early next year."
She confirmed that she signed with Universal Republic Records, while she also inked a deal with coach Cee Lo Green's management team. "I signed with Primary Wave and Cee Lo's taking me under his wing," she explained. "[I'm] just basking in the results of what the show did for me."
What's next on Juliet's to-do list? "The next accomplishment is to release a record worldwide and do a world tour," she said. "I want to go places I haven't gone before. I've never been to England. I've never been to Europe. I've never been to Australia. I've never been to China. I want to go everywhere I've never been."
'Wild Child' is now available on iTunes.
Big Red Chairs also caught up with The Voice's busiest alumnus, Chris Mann. Chris has been the show's most productive artist, turning out two full albums and making numerous public appearances. As he walked The Voice red carpet, he was preparing to leave for Detroit on Wednesday. "Isn't it great, though?" he reflected. "It's fun."
He described his packed schedule as "[Being] gone all the time. I'm getting to go to a lot of cool places. The most I've been home is like two days, maybe, at a time. But it's very good and I'm excited about everything. I'm kind of taking it as it's coming, which has been hard but really great at the same time. That's what you hope for."
Chris recently shot a PBS special with Martina McBride that premieres nationwide in March. He'll also be seen as part of TNT's Christmas in Washington on December 21, the same day that he appears on The Tonight Show with Jay Leno. Yet even as he enjoys all the newfound success, the always-humble Vanderbilt alum hasn't forgotten where his took off.
"It's really fun to be back," he said. "The stage is so fun to sing on and the audience is always so great. I'm glad I wasn't getting judged tonight, that's for sure.
"But I wouldn't have changed a thing," he added. "I'm even happy I got fourth [place]. It all happened the way it's supposed to happen."
You can read my review of Chris's album Roads. Both Roads and his Christmas album Home for Christmas are available on iTunes.