Six Months Pregnant 'Real Housewives of Atlanta' Star Kim Zolciak Shows Off Her Baby Bump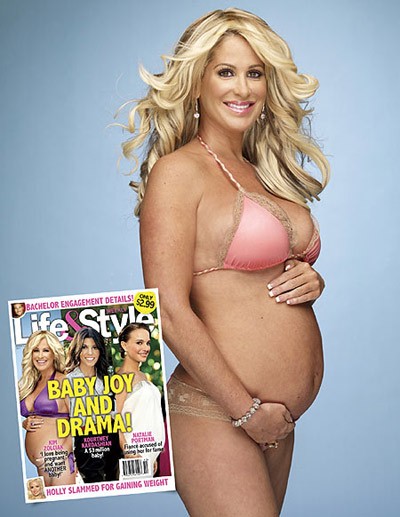 The Real Housewives of Atlanta is all about the drama. But these days, Housewife Kim Zolciak is drama-free, six months pregnant and happier than ever! At an exclusive bump-revealing photo shoot with Life & Style on Feb. 20, Kim opens up about her belly, her man - Atlanta Falcons defensive end Kroy Biermann, whom she's been dating since May - and the possibility of another baby in their future!

"I'll be 33 when I have this baby, and I'm more in touch with my body now," Kim tells Life & Style. The reality star, who already has two daughters, Brielle, 13, and Ariana, 9, from a previous marriage, says she's gained about 20 pounds so far. "I'm definitely eating a lot more now than I did with my girls." Not that she - or her man Kroy - minds a little extra weight. "Kroy loves me pregnant. I don't remember my ex-husband being that into it, but Kroy loves it. He tells me I'm so beautiful."

Together for nearly 10 months, Kim reveals to Life & Style that she and Kroy are finally shacking up together in Atlanta, just in time for their newborn's June arrival! "We'll be moved in before the baby is born," she says. So could a ring be far off? "Kroy's perfect for me, but we're not engaged," Kim tells Life & Style. "If we get married, Kroy would like to have one more child, and I want one too!"
For more with Kim Zolciak, pick up the new issue of Life & Style, on newsstands now!
More 'Real Housewives':