Sister Spotlight: Elle And Dakota Fanning

The Fanning family is lucky. They have two pretty young girls, both are established or establishing themselves as respected actresses in an age when tween sexpots sell, and have managed to stay out of the unflattering light of Hollywood - thus far. Two talented daughters, bound to make large amounts of money due to their talent, must deal with the downfalls of normal child stardom. For those who are only familiar with
Dakota Fanning
, she has a younger sister,
Elle
, who is fast becoming just as well known as her sister. Let's investigate this perfect storm of child actors done right, and what they can learn from eerily similar case studies.
Dakota, née Hannah (Dakota is her middle name), was born in 1994. By 2001, at age 7, she had her breakthrough role as Lucy, the daughter of a mentally handicapped man, in "
I Am Sam
." Her performance there is incredible for someone so young and unexposed. So much so that she was nominated for a SAG Award. Not bad for somebody that learned cursive recently. Her adorable all-American looks cemented her as a go-to actress to play the roles of younger characters ("
Sweet Home Alabama
" as a young
Reese Witherspoon
, a young Ellen, a young
Ally McBeal
, etc.) and strong child roles. She can handle intense subject matter and blockbuster co-stars like
Sean Penn
,
Michelle Pfeiffer
,
Tom Cruise
,
Denzel Washington
…actually, as her resume builds she may soon be the blockbuster star leading the list. She has been compared to a young
Drew Barrymore
due to her young start and talented performances. She currently is of age to be a high school sophomore. Feel unaccomplished yet?
Dakota raked in an estimated $4 million approximately in 2007, which likely pleased her parents. Not pandering to a cute-enough-to-make-you-barf style of child actor is another plus. Her talent is undeniable, but hopefully she avoids the obscure route of once household name stars like Haley Joel Osmond. Her disappearance would be a shame. A talent like hers might feasibly flourish as she matures instead of stumble awkwardly through the treacherous teenage years.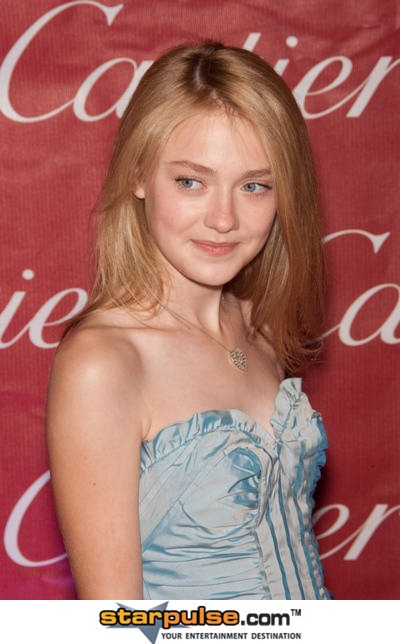 Another fact that will make her father happy is her clean-cut looks are unlikely to translate to a trashy or slutty appearance (Countdown to the Olson twins' 18th birthday, anyone?). Her physicality has been second to her acting abilities for quite some time, which isn't to say she won't turn some heads. She will just have the acting chops to fall back on instead of, well, what so many other pretty young Hollywood faces have. Nothing. Young Hollywood has so few of these legitimate actresses that don't need skimpy outfits, attention-grabbing headlines, or 100 mph social lives to maintain an active status in the public eye. Dakota has her craft. She should relish being an awkward teen off the set. Her performances have been critically acclaimed - somewhere she needs to come back down to earth and be normal. She has that it factor, and hopefully she knows it and will guard it.
Her latest film, "
Push
," is slated for a February 2009 release. As a 14 year old ingénue, hopefully she can begin to explore roles that color her repertoire. Her ability to take risks showed in full during the decision-making process of a film she made when she was 12, called "
Hounddog
," in which the character she plays is raped. Controversial, yes, but navigating teen-queen roles will be difficult in other ways. Being respected for good work sometimes allows for fun pieces -
Matt Damon
may be Jason Bourne and Will Hunting, but he was also a conjoined twin in "
Stuck on You
" and a punk rawker in "
Eurotrip
."
Dakota's charm as a young adult needn't be wholly ignored - on the same day "Push" hits theaters so will the animated "
Coraline
," where she supplies the voice of the main character. She needs to skip the horrendous Barrymore adolescence…and subsequent slew of sub-par movies that go with it once she's returned from the brink - nobody wants another "
Fever Pitch
" coming out. Or another Drew muddling her impressive resume with filler films.
Her sister, Elle, has been equally busy in her own right. Yet again, using her middle name when she acts, Mary Elle Fanning got her start early and has some big shoes to fill. She's just four years younger than her sister, but has been involved in movies almost as long. She was a young Lucy, in "I Am Sam," with her sister, as well as a younger Dakota in "
Taken
," a mini-series with Executive Producer,
Steven Spielberg
. Not bad for a child of no more than four. Like the Fanning before her, she continued to excel, landing roles in a myriad of films, notably "
Because of Winn-Dixie
" and two films where she worked with
Brad Pitt
and
Cate Blanchett
, "
Babel
" and "
The Curious Case of Benjamin Button
" - just like her sister before her, she plays the younger version of the leading lady, Blanchett.
Obviously, there is one starlet in this family and one actress still finding her footing. This is slightly absurd considering Elle is barely 10 years old, Dakota 14. These are the ages when some child actors start getting roles, not getting choosy. They both pulled out of "
My Sister's Keeper
," a beloved adapted-book by Jodi Picoult in which one sister was born to provide healthy blood for her chronically ill sister. The sickness-induced baldness was apparently too much for Dakota, and they walked. No doubt this film would have been huge for Elle - not so much for Dakota. She's been lucky to have established herself so solidly and so early. At this point her younger sister is the one that needs to prove she's more than, well, just her 'younger sister.'
Watch for ripples in Hollywood's social circles and tidal waves in all other areas from these two. Less
Hayden Panettiere
, more
Jodie Foster
. Either way, just be sure to watch.
More pictures of Dakota Fanning / Elle Fanning gallery
Story by
Kate Kostal
Starpulse contributing writer