Sister Sledge Fight For Digital Royalties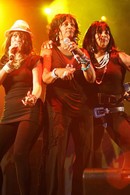 R&B group Sister Sledge have launched a court battle in a bid to secure lost revenue from their digital music sales.

The We Are Family hit-makers have joined with Oscar-nominated actress/songwriter Ronee Blakely to sue Warner Music Group, claiming they're owed millions of dollars in unpaid royalties. 
In their lawsuit, filed on Thursday, the artists claim they have lost revenue due to calculations based on "sales" rather than "licenses".

The stars' complaint states, "Rather than paying its recording artists and producers the percentage of net receipts it received - and continues to receive - from digital content providers for 'licenses,' Warner wrongfully treats each digital download as a 'sale' of a physical phono record (sic)... which are governed by much lower royalty provisions than 'licenses' in Warner's standard recording agreements."

Sister Sledge's suit, first obtained by The Hollywood Reporter, comes after rapper Eminem won a 2010 appeals court decision and set a legal precedent entitling copyright holders to half of the revenue from digital sales.
 
British rocker Peter Frampton and the administrators of late funk legend Rick James' estate have since filed similar claims.