Sir Honey Davenport; Electric and Inter-Galactic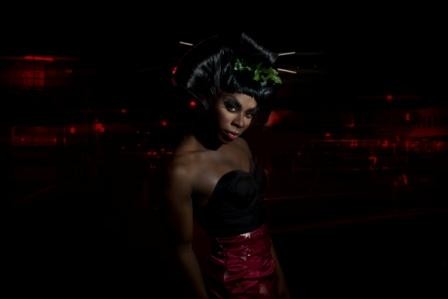 Starpulse.com's Jeza Belle sat down with gender-bender drag queen Sir Honey Davenport for a chat on Honey's band, her off-Broadway show, and why it pays to be who you are.  
Tell our readers what you have been up to?
I got married this year…so that has been an adventure on its own! On top of that, my band Electrohoney, released its first album and developed a stage show around it. Plus I've been bringing the party all over New York City at a variety of venues!
One place you are bringing the party is in the off-Broadway show, The Orion Experience in NYC; describe for our readers what the show is about and your role as The Queen of White Lies:
The show itself is an inter-galactic space journey with an interactive audience element. It's titled after the band, The Orion Experience, who plays their songs live during the show.  In addition, it has everything from aerialists to a Queen of White Lies…me! The audience boards a space craft and hence, joins the band, for a rock journey to the stars. My role as the Queen of White Lies is something of a cross between a vampire, sorceress, and sex-goddess from outer space! The show has gained a cult following with a lot of repeat audience members in the weeks we've been running.
In addition to the show, your own band, Electrohoney, has been getting quite a bit of attention. What influences your music?
The band, which includes SteveX, who plays keyboard and guitar, and Jessie Gray on drums and myself have been together now for about two years.   We were so thrilled to have released our first album, but being artists decided to go back and revamp it by adding some new tracks. That's what we are currently working on. We are influenced by groups like the Yeah Yeah Yeahs for example. As a lyricist and a singer though, I personally am inspired by people like RuPaul, Kevin Aviance, Marilyn Manson and generally artists that tend to be gender-benders. They influence both my music and my style.
How has writing songs for the band been for you?
Well, in fact one of our songs, "Indestructible", I wrote with Marilyn Manson in mind! While on the other end, I wrote "Found it Out" with the idea that one day Janet Jackson could record it, since I'm a huge fan of Janet Jackson, as every gay man in the world should be! Now that would be a dream come true!
What's one thing that might surprise people about Electrohoney?
We have a funky way of rehearsing! Being that we are New Yorkers and the apartments are small, we don't rehearse in the same room together. I go into the bathroom with a microphone, while Steve is in the hallway with the keyboards and guitar and Jesse is in the closet with the drums. We soundproofed everything so all anyone would hear outside of the apartment is me signing! While the three of us are on headphones and mics, we Face-Time each other, even though we are just a few feet away.
You don't appear to be confined by the barriers of what's expected in drag, what motives you to be yourself?
I've always found that I'm happy being myself. It's nice when it inspires others though. Looking fierce and fabulous is great, but looking fierce and fabulous while inspiring someone else to be themselves is priceless.  Growing up in a poor neighborhood in Philadelphia, we had to wear a school uniform and I felt like it hindered my personality. How we are viewed by people is how we dress and carry ourselves and I was being repressed from being myself. Drag has been an outlet for me to be who I really am. In fact, many of the ideas I would never shared with anyone before, now pop up on the regular as part of my look!
With that in mind, what advice do you have for the many kids growing up that are being bullied for being different?
It's really easy to dislike yourself or try to change yourself from being who you are. However, even though it's a struggle that never ends, it so rewarding if you can continually be 100% honest with who you are. It gets so much better…you could become a fabulous drag queen! Being yourself is what will lead you to having a great life.
Time to dish:
Favorite hairdo you've had:
Since the dawn of my drag I've had my bright pink Mohawk that I refuse to get rid of! I keep soaking it and re-oiling and restyling …I'm never going to toss it!
One thing a queen cannot live without:
That's hard for me because I'm constantly changing my look and doing different things. I usually have a must have for the moment, so it varies.
An artist you would love to duet with:
I am a huge fan of Jonte! He has really inspired me and I would love to do a duet with him. Also, I would love to get into the studio with Icona Pop…their band and my band would be crazy together!
Music, DJing, Acting; which areas of the arts have you not yet broken into but have an interest?
I've done a lot of stage acting and commercials; in fact my cousin is Lee Daniels, who I assisted as one of my first jobs in the arts. But, I've yet to be able to star in a movie in drag and that's a dream of mine. I'm looking for the right script to come along!
Finally, what does the future hold for Sir Honey Davenport?
In the immediate future, I'm back in the studio with the band working on some stellar tracks. In the long run, no one knows what the future holds but I hope it's filled with lots of growth while I continue to blossom as an artist.
For more information on Sir Honey Davenport, visit the Electrohoney official website or The Orion Experience website.