Singer Sarah Hackett on New Single, Being Inspired by Demi Lovato
"Music has been a part of my life forever," says 16-year-old Canadian-born singer Sarah Hackett. "Music has been my favorite place where I just feel like I can be myself. When I was growing up, I couldn't see myself doing anything else. I've done those classes with the recorders and stuff like that. High School Musical and all that stuff, I wanted to do that - to be able to play those instruments and act and do all those things. More than anything, I wanted to inspire."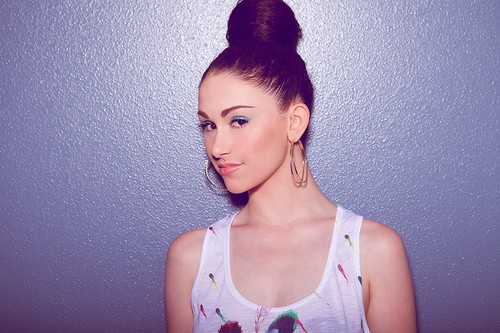 Thus began Sarah's journey, with her first big opportunity coming two years ago. "I read a magazine article about this music camp in Los Angeles," she explains, "and I called the phone number and I thought 'Oh my God, this is going to be like a total scam.' I ended up going to LA and I auditioned over the phone to get into this camp, and I went and I met a lot of great people, and worked with other artists.
"I met [her producer] Andrew Lane and I basically wouldn't take no for an answer. I was like 'I want to work with you. I want to work on my own material and songwriting.' I just kept calling and he let me come work with him. I was in LA for two weeks and I did five original songs. He liked what I'd been doing, so in August I went back to LA and I did a small video shoot. I just relocated to Los Angeles in July [of this year] to be given more opportunities here."
Sarah is a young artist still at the very beginning of her career - learning new skills and defining what she wants to do creatively. Having played violin since she was seven, she stopped two years ago in order to work on her vocals, and to be introduced to piano and guitar. The video for her first single, "You Got Me Open," was shot in May, posted on her YouTube channel in August, and now has over one million views.
"That song means a lot to me because it really got me started," she says. "Right now I'm in the studio developing my sound and really looking forward to completing an album. I'd like to put myself out there."
Of course, finishing an album requires more than a handful of songs, and Sarah is always looking for that next thing that will inspire a potential track. "Every day something usually happens and I use the notepad on my phone and I write something down," she adds. "Usually there's something on my mind. And I'm working with other writers as well."
When looking at the career ahead of her, she doesn't think of it in terms of professional milestones, focused more on the lasting impact of her music. "I really want to inspire people," she continues, pointing to one of her favorite musical artists to elaborate. "I'm a huge Demi Lovato fan. I think her music is very relatable; that's what I love about it. I've kind of grown up with her. I love her sound and I think she's very inspirational. I admire her very much for telling her story. I'd love to be able to have that sort of relationship with fans."
When Sarah's not singing, however, she remains your average "pretty normal" teenager, enjoying life. "I don't do anything crazy," she says with a laugh. "Music is just my passion and I can't imagine doing anything else."
You can keep up with Sarah on Twitter (@sarrahhackett) and Facebook and by visiting her official website. You can also watch the video for "You Got Me Open" below.
For more from Brittany Frederick, visit Digital Airwaves and follow me on Twitter (@tvbrittanyf).
(c)2012 Brittany Frederick/Digital Airwaves. Appears at Starpulse with permission. All rights reserved. No reproduction permitted.