Sinead O'Connor Shows Off Cheek Tattoos And Says Battle With Miley Cyrus Is Done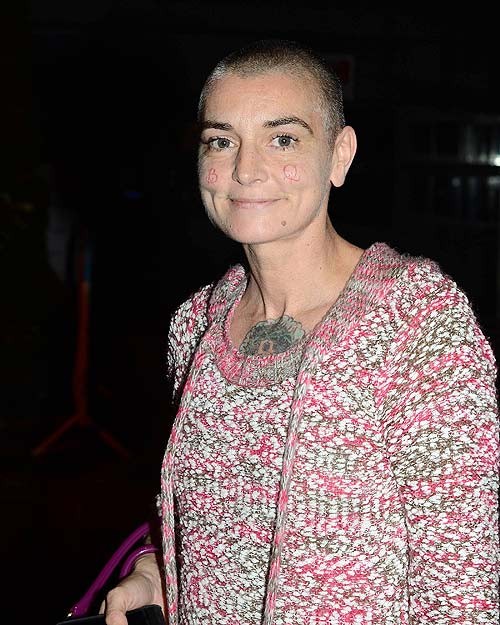 Sinead O'Connor showed off a pair of cheeky tattoos on Friday night during an interview on Ireland's "The Late Late Show.

The singer debuted her new ink at Britain's Bestival last month, when she posted a photo and the caption "Face Tattoo" on her official site. The new body art features a simple "B" on one cheek and a "Q" on the other.

Fans commented on the tats, asking what or who BQ is, after which O'Connor revealed that they referred to ex-boyfriend Brendan Quinlan.

"'It's what it is' .. Un ange passe (an awkward silence)..." she wrote.

She also says she loves the new ink.

"Rumours of tattoo removal are false," she wrote on Sept. 17. "Love the tattoo… It's staying forever."

The 46-year-old singer also revealed that she's done with her recent feud with singer Miley Cyrus after she posted an open letter to the oversexualized 20-year-old telling her that the music industry doesn't care for her and will "prostitute" her for all she's worth. Miley replied to O'Connor's advice with a photo of the Irish singer's tweets and writing, "Before Amanda Bynes.... There was...."

O'Connor didn't care for the tweet, threatening to sue Cyrus, but told host Ryan Tubridy on "The Late Late Show" that her concern isn't so much with Miley, but with music "being murdered".

"As far as I'm concerned it's over, it's not something I really want to talk about." She said. "It's about music being murdered, it's not actually about Miley."

She then points to Simon Cowell and "The X Factor's" Louis Walsh.

"I feel sorry for the murder of music and rock 'n' roll, which has happened because of the industry. Because of Simon Cowell, Louis Walsh. They've murdered music," she said.
"I stand to say it on behalf of every musician in the world and they'll agree with me. The industry has taken over so much, the money-making side of it, that the sexualizing of extremely young people making records, and all the worship with money and bling and diamonds, all the Simon Cowell, Louis Walsh - it all amounts to the murder of music and that's what concerns me."