Sinead O'Connor Blasts Irish Media For Continued Bad Press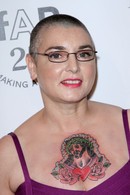 Embattled Irish singer Sinead O'Connor has hit out at the media for attempting to "destroy" her estranged husband's career as a therapist following their marriage split.

The "Nothing Compares 2 U" hitmaker wed Barry Herridge in Las Vegas in December, just four months after she detailed her frustration at being single in a column for an Irish newspaper.

However, O'Connor parted ways with Herridge just 16 days after exchanging vows. They reconciled briefly earlier this month, only for the singer to swear off men forever to avoid a repeat of her heartache.

O'Connor went on to blame the Irish press for picking apart Herridge's personal and professional life, and now she's lashing out at the local media again for continuing to target both herself and her ex.

In a rambling rant on Twitter.com on Monday, she writes, "Regarding my sweet husband. Nothing I did... deserved him to be set upon by media trying to destroy his career.

"So it is evil to blame me as u do media people because I am open, u may be guilty of a thousand crimes and yes I am. But it was YOU who decided to destroy my husband just because I loved him, NOTHING I ever did (or) didn't do deserved my innocent husband to be set upon and u are animals and I want u to know u have taken the very heart of me because I loved that man...

"It was your evil hearts that set out to destroy him just because I loved him... U chose from ur (your) own evil hearts to hurt a butterfly.. Which was my husband. Why hurt him for my crimes?"