'Sin City' Sequel In The Works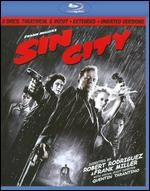 Director Robert Rodriguez is heading back to the big screen with a sequel to his hit movie Sin City.

The 2005 film, based on the graphic novel by Frank Miller, boasted an all-star cast with appearances from Bruce Willis, Mickey Rourke, Clive Owen and Jessica Alba, and it won over cinema audiences and critics.

Rodriguez has long wanted to make a sequel, and he used an appearance at the Comic-Con convention in California on Thursday to announce the follow-up is nearly ready to go.

The moviemaker revealed the Sin City 2 script is almost finished, while he also announced plans for two sequels to his 2010 movie Machete, telling fans, "Even if we don't get to three, I'm at least making the trailer for three because it's so good. I would put it even before part two. Machete goes into space! It's like Moonraker."