Simon Cowell Supports Tulisa Contostavlos Over Sex Tape Scandal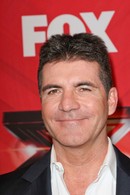 Simon Cowell is standing by his protégée Tulisa Contostavlos after her sex tape leaked on the internet, insisting the scandal won't affect her job as a judge on U.K. talent show The X Factor.

The former N'Dubz star has admitted she is the woman seen performing a sex act on a man in the footage which appeared online earlier this week, even though her lawyers previously branded the tape a fake.

She spoke to fans in an emotional video message on Wednesday, telling of her devastation and blaming the leak on an ex-boyfriend, while rumors suggested the scandal could cost the singer her job on Britain's The X Factor.

However, Cowell is standing by the star and insists he has no plans to axe her from the line-up of his TV show this year.

He tells Britain's The Sun, "What she was doing was not illegal. You are allowed to do this stuff in your bedroom, but you don't want the tape to come out. Whoever he is, he's a scumbag - and I'm being really conservative with my words here."

"It's disgusting, repulsive. He's embarrassed her and he's got no right to put her in this position.
He should literally find a hole and hide in it for the next week. It really, really annoys me. It's like, 'Who do you think you are?'

"It makes no difference with me about her coming back on the show - 100 per cent. I mean, God, if I said no (to her coming back) it's allowing every sleazebag in the country to wreck somebody's career when she didn't do something wrong."

"The public are very, very a) forgiving, and b) understanding. But I hope they don't forgive the person who did it."