Silent Hitchcock Film Discovered In New Zealand
This will interest any film, history or Alfred Hitchcock buff: A portion of the first film credited to the Master of Suspense has been discovered in a New Zealand archive, 88 years after it was made and long after it was considered lost forever.
Hitchcock didn't actually direct it, but he is credited on "The White Shadow" as its writer, assistant director, editor and art director.  To put it simply, his touch was all over the silent picture.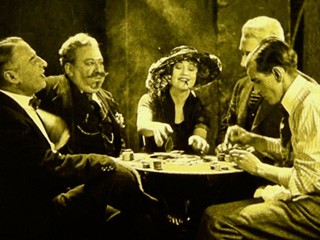 Directed by Graham Cutts, the film stars Betty Compson as twin sisters – one good, one bad, although it's probably slightly more complicated than that.  Hitchcock was 24 when the film was made in 1923.  It's not clear when the footage was lost.
The film was discovered in an archive full of films donated by a projectionist who collected them.  Three reels of "The White Shadow" were found, which is roughly half the film.
Hitchcock went on to direct his first feature – "The Pleasure Garden" – in 1925.  Prior to working on "The White Shadow," he had worked on title cards and various tasks in a London movie studio starting around 1920.
After making several successful films – silent and talkies – including "The Lady Vanishes" in 1938, Hitchcock set out for America in 1940 to make "Rebecca" for producer David O. Selznick.  The film won the Best Picture Oscar, his only film to win that award.  (Hitchcock himself never won a competitive Oscar.) 
He never returned to the other side of the Atlantic, instead focusing on films made in Hollywood, including a huge number of classic thrillers – some comedic, some dour.  Among his best are "Vertigo," which ranked 9th on the AFI's most recent Top 100 list, as well as "Psycho," "North by Northwest," "Psycho," "Rear Window," "The Birds" and "Strangers on a Train."
"The White Shadow," though not his own, is said to have Hitchcock's touch.  Only a handful of people living on Earth have seen it.  The Academy of Motion Pictures Arts & Sciences plans a screening in September.
It's an unexpected gift.