Sigourney Weaver 'Will Be Back' For More 'Avatar'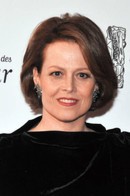 Sigourney Weaver has assured fans she "will be back" to star in the planned sequels to sci-fi epic Avatar, despite director James Cameron killing off her character in the 2009 blockbuster.

The Alien star portrays botanist Grace Augustine in the futuristic 3D movie, which has become the highest-grossing film of all time and the only release in history to break the $2 billion mark.

Cameron is currently writing a follow-up to the box office smash and Weaver insists Augustine will be resurrected for the forthcoming installments.
 
Speaking to movie blog ComingSoon.net, Weaver claims Cameron promised that "no one ever dies in science fiction." adding, "Don't worry, I will be back."

The first Avatar sequel isn't expected for at least three more years - but the veteran actress is adamant it will be worth the wait.

Weaver says, "He's told me the stories for the next two movies and I have to say that they're absolutely wonderful. Now we just have to make them."