Sierra Noble Talks 'Possibilities' With Starpulse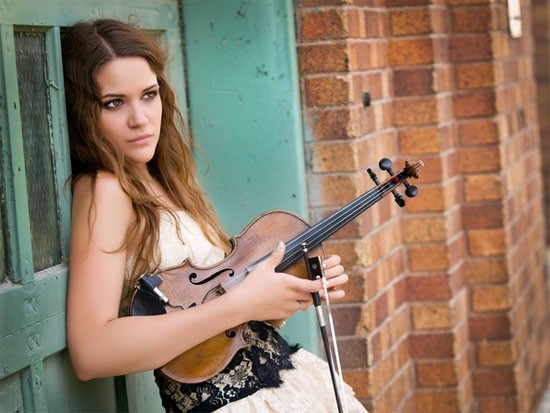 Sierra Noble is young, beautiful and at the brink of an extraordinary career. The young fiddler recently released her album, 'Possibilities', was featured in Elle Magazine and took a few moments to chat with us about her blossoming career.
Starpulse: Tell me about your single, 'I Can See'
Sierra: 'I Can See' is a song I wrote with my dear friend, Chris Burke-Gaffney, a very accomplished songwriter and musician from my hometown, Winnipeg, Manitoba.  It took me a long time to figure out what this song was about, for me anyways.  It is about love, the purest kind of love that we all have deep inside of our hearts...we are born with it, and it never goes away, no matter what we go through or what happens to us.  Though at some point in life we start to think that we only have so much of it to give...that we have to only give it to certain people or we might run out of it!  But that isn't true.  The pure love, the pure compassion inside the hearts of every human being on this planet is the same, and it never runs out.  You can change someone's life by something as simple as smiling at them if you smile at them from your heart.  It allows us to see and to hear through and beyond every "difference" that we are told in life that we have between one another...gender, age, background, language, skin color, belief, sexual orientation...none of those things are real; what is real is that we ALL have the capacity to love one another, if we choose to.
Starpulse: Who do you look up to as artists?
Sierra: There are so many!! Here's a starter list...Bruce Cockburn, Buffy Saint-Marie, Oliver Schroer, Patty Griffin, Beyonce, Emmy Lou Harris, Alicia Keys, John Hiatt, John Mayer, Bonnie Raitt, Lady Gaga, Jonsi (Sigur Ros), Allison Krauss, Bela Fleck, The Beach Boys, The Beatles, Howlin' Wolf, Louis Armstrong, Chet Baker and...Clapton. I also have to acknowledge my many unbelievably talented friends in my life who truly do inspire me every day with what they do.  I feel so blessed. 

Starpulse: Do you often get compared to Taylor Swift?
Sierra: Sometimes, I think maybe because we're both young girls that sing and have curly hair maybe? Our music is definitely different, but she is a great songwriter so I'll take it as a compliment any day. I think more than that though, people have shared with me that to them the comparison comes from more than music. We have both always been thought of as and looked up to as role models to our young fans.  Personally, that is something that I hold very dear to my heart and take as an honor and a responsibility in my life, and always will.  Anyone can make mistakes in life, and we all will, no one is perfect, but I personally try to keep in mind a beautiful and poignant quote that I heard from Reba (another absolutely amazing woman who I VERY much admire!), she said, "remember...little eyes are always watching." Taylor's fan base is obviously much bigger than mine at the moment, but it doesn't matter how many little eyes are watching...what matters is that they are, and it's up to you what you do with that.

Starpulse: How did you get into playing the fiddle?
Sierra: It's actually a pretty cool story! When my mom was pregnant with me, my dad left her- a woman with a nine year old, eleven year old and one on the way.  It wasn't an easy time to say the least for my mom. We were living in Ottawa at the time in a duplex, next door to a virtuoso gypsy style solo violist from Romania, named Ioan Harea. The amazing mom she is, even in this time of unbelievable stress and hardship for HER, she was worried about the little one inside of her...so she made sure to sit on the couch for half an hour a day and listen to Ioan (who practiced 8 hours a day) play. She said she could always feel me completely relax when she did that.  After I was born, the grandmother next door (Ioan's mother) would take me to their house for an hour every day to give my mom a break and Ioan would play to me while she rocked me in her arms.
For the whole first year of my life, until we moved to Winnipeg, I heard the sound of beautiful violin playing for an hour every day. My mom says as soon as I could put sentences together I started begging to play the violin, and that I would always pick it out in music everywhere we were. Finally, after a series of special events and amazing people helping out, a violin was first put in my hands at the age of seven. And I guess my ear and brain (and heart!) must have been tuned so early on to the sound of the violin, I just kind of...knew how to play after I was shown the basics. My mom says she felt so bad for parents who said that their kids were screechy for years while learning, because I never was it was just kind of literally..."in me." 

Starpulse: What was it like opening for Paul McCartney and Bon Jovi?
Sierra: One word... AMAZING!!!

Starpulse: You were also in Elle magazine, that's pretty exciting! Can you tell me about
that?
Sierra: Yes!  I was told like a couple of hours before I left for a show I was doing in NY that a reviewer from Elle.com was coming to the show and wanted to interview me afterward.  I was SO excited, and then I had the "oh no...What should I wear?!" moment.  I decided the best thing I could do is wear whatever I felt the best in!  Which changes day by day so, I slapped on some black skinny jeans, black tank top, and a lacy thing over top with my favorite go-to boots (that I'm wearing in probably every photo you can find of me from the last four years) and put on the best show I could! And luckily, she loved it and it couldn't have gone better! I can't tell you how excited I was to see it on the homepage of the website a couple days later! I was kind of ecstatic all day.

Starpulse: Tell me about your album, 'Possibilities'
Sierra: 'Possibilities' was the first release I ever sang on, and actually, 'Possibility' was the first song I ever wrote.  I was seventeen and wrote it with two good friends of mine, one mentioned before, Chris Burke-Gaffney, the other Keith Macpherson. I'm very proud of that little EP.  It opened doors I didn't even know I COULD open.  I was thirteen when I started touring Canada and Europe as a solo fiddle player, and I never wanted to or thought I could be a singer.  It wasn't until I wrote 'Possibility' with the guys and demo'd it that I started down the road to finding my voice. And am I ever glad that I did!  I couldn't imagine life without writing and singing. There is another very special composition of mine on that EP, 'The Warriors Lament' which has a story for another time.  It became very well known in the Canadian military/veteran community after I was asked to play it atop the monument at Vimy Ridge, France for the 90th Anniversary of The Battle of Vimy Ridge.

Starpulse: So, I read that the album was up in space?
Sierra: Yes, one of the coolest things that's ever happened.  So imagine this...I get an email that says "Dear Sir/ Madam : On June 13th, 2009 Astronaut Julie Payette will be flying on the STS-127 Mission;  Ms. Payette is a fan of Sierra Noble and would like very much to bring aboard on her flight to the space station one of Sierra Noble's CD's.  Ms. Payette is all for supporting Canadian artists. Please R.S.V.P.  Thank you for your collaboration!  Regards, NASA"
It was the coolest thing EVER as a musician to get an email from NASA!  I could imagine an email from pretty much anyone else in the world before I would from NASA!  Best part of all of it was in the end I got to meet her when she visited Winnipeg and she made me this awesome frame (I know she made it because I watched her putting it together) with the actual copy of the CD she brought up to space and a photo of her IN the space ship (I mean...space station) with the CD floating in front of her face and EARTH in view outside the window!  Seriously...THE COOLEST!  She is certainly a woman to look up to!  Super cool, down to earth, funny, and uh...a CHICK ASTRONAUT!   
Starpulse: What's up next for you?
Sierra: My next chapter, starting with a new album that I am so incredibly excited about.  I met legendary Grammy Award winning producer, Russ Titelman, at The City Winery in NYC where I played one song, 'Possibility' which won the International Category in the NY Song Circle Song Competition that night. He wrote down his email address for me on a tiny scrap of paper and asked me to send him more songs. I did, we went for coffee, and not long after that we decided to record an album together.  Now, two years later, he is one of my dearest friends and I can't WAIT to go on this journey with him! I just turned twenty three and I have a feeling I'm going to look back very fondly on this chapter.
Check out Sierra below!