Showtime Sunday Nights Return with 'Shameless,' 'House of Lies,' 'Californication'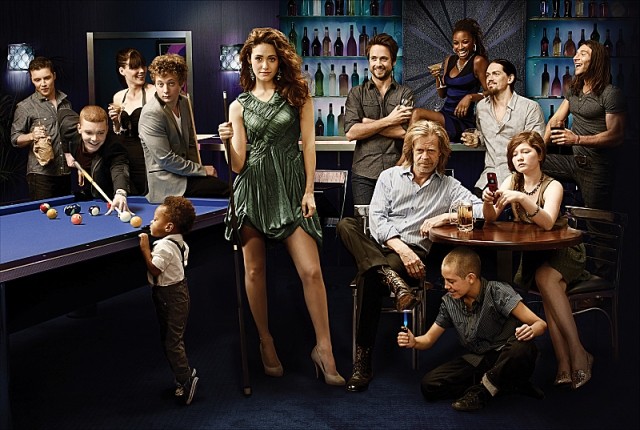 Showtime is the channel to be watching on Sunday nights. After the nail-biting returns of Dexter and Homeland, the premium cabler is now bringing the laughs with new seasons of Shameless, House of Lies, and Californication, starting tonight.
All three shows have some element of people behaving badly, whether it's Frank Gallagher's lack of parenting or Hank Moody's ever-growing list of flings. That concept works better for some shows than it does others. Season six of Californication is the same debauchery with a different theme. After trying the film world in season four, this time around Hank (David Duchovny, who also directs the season premiere) is working on a musical with drugged-up rock star Atticus (guest star Tim Minchin). This is not the kind of show you'd take your kids to, and Hank isn't going to suddenly become PC either. Maggie Grace also appears in a season-long arc as Faith, the next woman Hank meets and eventually beds, and Marilyn Manson is due to pop by. The show hasn't changed its stripes at all, and at this point, you either like it or you don't.
There's misbehavior going on during the sophomore run of House of Lies, too. While Marty Kaan (a scenery-chewing Don Cheadle, still looking like he's having the time of his life) and his 'Pod' are doing things you wouldn't do, that's at least tempered by the fact they're putting the screws to people you want to see get their comeuppance. The cast is what makes Lies work: their charisma and obvious enjoyment sells the show to the audience like their characters persuade clients.
For all the energy, though, some of the series' best scenes are still some of its least flashy: the ones between Marty and his father (Glynn Turman). It's a joy to see two great actors share a scene. And with Lisa Edelstein (House, The Good Wife) visiting for two episodes, this guilty pleasure show gets even better.
The best of the returning bunch, though, is Shameless. It might not have clicked in season one, but now with season three it's obvious why the show has developed a passionate fanbase. The Gallagher family still hasn't straightened out, but they also haven't stopped trying, either. With everyone's worries about the economy, there's something oddly heartwarming about watching these working class folks helping each other out, even if they screw it up more often than not.
The series still belongs to Emmy Rossum, who deserves far more awards recognition than she's gotten in the role of Fiona, who continues her eternal quest to be the family breadwinner. Justin Chatwin has never been better as Fiona's on, off and on again boyfriend Jimmy, who's moved into the Gallagher home but still can't shake off his past misdeeds. Keep your eyes open for a guest spot from The West Wing star Bradley Whitford, too.
With these three shows, it's safe to say that Showtime has taken full advantage of the channel's ability to show more adult programming. Californication, House of Lies and Shameless all earn their TV-MA ratings for differing reasons. But what's admirable about Showtime's stable of original series is the network's willingness to tackle adult topics and not just content. Underneath all that are stories that aren't pretty or comfortable or neatly wrapped up in a half-hour. They're real, they're crazy, and they can really make us laugh, too.
Shameless premieres at 9 PM ET/PT followed by House of Lies at 10 PM ET/PT and Californication at 10:30 PM ET/PT, only on Showtime.
For more from Brittany Frederick, visit my official website and follow me on Twitter (@tvbrittanyf).
(c)2013 Brittany Frederick. Appears at Starpulse with permission. All rights reserved. No reproduction permitted.