Show Review: Christopher Titus, "Neverlution"
Whoever said "don't meet your heroes" is full of it, because I met Christopher Titus, and he is as awesome as advertised.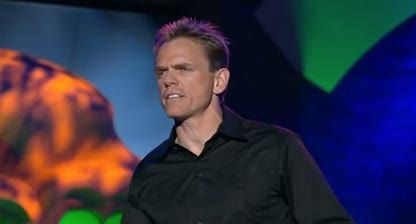 I've been a fan of Titus since his eponymous FOX comedy series aired on FOX from 2000-2002. I had Titus's list of resolutions for life pasted on the door of my office in the high school theater. His cutting observations on dysfunctional families were not only astute, but they had my own family rolling every week. Almost ten years later, we still quote Titus. When I heard he was bringing his new show to my neighborhood, I knew I had to see him live. And he did not disappoint.
Titus's new "Neverlution" act is just as sharply hilarious as his previous routines; in my opinion it's some of his best material to date, probably because I'm now smack in the age group it's directed at. Whereas his last show "Love Is Evol" tackled his messy divorce and messed-up relationships in general, "Neverlution" targets parenting, and comparisons between our childhoods and child-rearing skills. There are other things here as well - some material on politics, including having a black president, as well as riffs on manhood and the uses and abuses of technology - but Titus is at his best when he's talking about what we know him for: how family gets screwed up and how it screws us up.
Thanks to his life experience, Titus has a perfect viewpoint to comment on family matters. Raised by a now-infamous father about whom there are still hilarious anecdotes to tell, having survived his divorce, and now the parent to two young children, he's pretty much seen it all - and seen it all go wrong. There's not anything he won't riff on. He'll poke fun at himself but he's also unafraid to call out others, such as a slacking parent letting his child run amok at the DMV, or on Friday night, an audience member caught shaking her head one too many times at his jokes. While his act isn't all-ages (there's at least two rape jokes), it's far less adult than many comedians out there working today. I brought my fairly conservative parents with me, and they were laughing so hard that they were crying.
The icing on the cake is how much energy Titus brings live. As hilarious as he was on TV and every one of his aired stand-up specials, that's nothing compared to seeing him live.  His sometimes near-manic delivery and perfect facial expressions only drive home the already side-splitting material. His performance is half the fun of the experience. Even if you've seen everything he's ever done, you haven't experienced Christopher Titus until you've seen him in person...at which point he may be making fun of you.
I met Titus after the show, where he was graciously signing autographs and taking pictures with anyone who wanted to. I was pleasantly surprised that it wasn't just your standard meet-and-greet, but he took the time to ask my name and, when he saw that I was there with a walker, asked about my condition and how my recovery was going. He is as good with his fans as he is at making them laugh. It's a moment that was totally worth waiting since the tenth grade for.
Whoever said "don't meet your heroes" had it wrong, because I met one of my favorite comedians, and not only was he a wonderful person to meet, but he had me laughing so hard that my stomach still hurts. If he comes to your town, you need to experience Titus for yourself. You'll thank me later.
You can find Christopher Titus' appearance schedule on his official website.