'Shotgun Stories' Follows Arkansas Family's Dramatic Blood Feud

On July 1, Liberation Entertainment released the DVD
Shotgun Stories
, an emotional tale of revenge and loss from writer-director Jeff Nichols.
Produced by indie film heavyweight
David Gordon Green
(
Pineapple Express
),
Shotgun Stories
marks the auspicious directorial debut of
Jeff Nichols
and features a flawless cast headed by
Michael Shannon
(
Bug
,
World Trade Center
, the upcoming
Revolutionary Road
with
Leonardo DiCaprio
&
Kate Winslet
).
Shotgun Stories
tracks a blood feud between two sets of half brothers in the cotton-fielded back roads of southeast Arkansas. The first set of Hayes boys were deserted by a violent, alcoholic father who never gave them proper names. The second Hayes family knew a different, sober man who led a comfortable middle-class life. When those first sons crash his funeral, the anger that had rested in the background of their lives threatens to rise up and overtake them all.
The DVD's bonus materials include audio commentary with director Jeff Nichols, isolated music track and photo gallery. The film features original soundtrack music by Memphis indie/alt-country band
Lucero
.
Shotgun Stories
Acclaim:
- Feature Film Award at the 2007 Austin Film Festival
- Student Jury Award at the 2007 Newport International Film Festival
- New American Cinema Award at the 2007 Seattle International Film Festival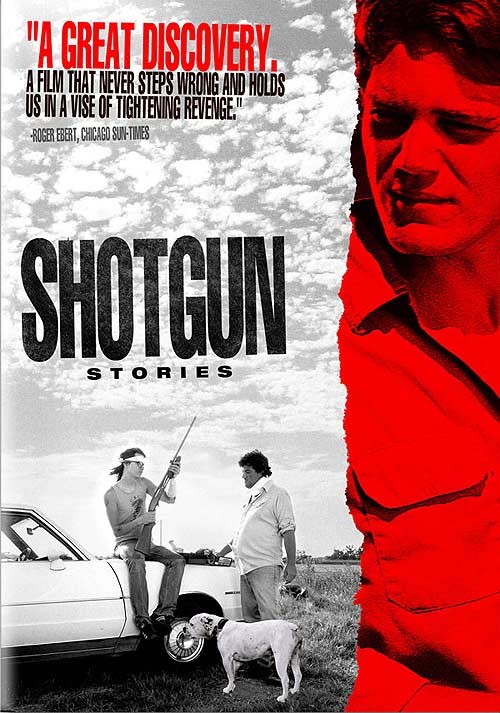 "A great discovery. A film that never steps wrong and holds us in a vise of tightening revenge." —
Roger Ebert, Chicago Sun-Times
"A point blank buckshot blast of American rage." —
Variety