Shocking News : Justin Bieber Joins Catholic Priesthood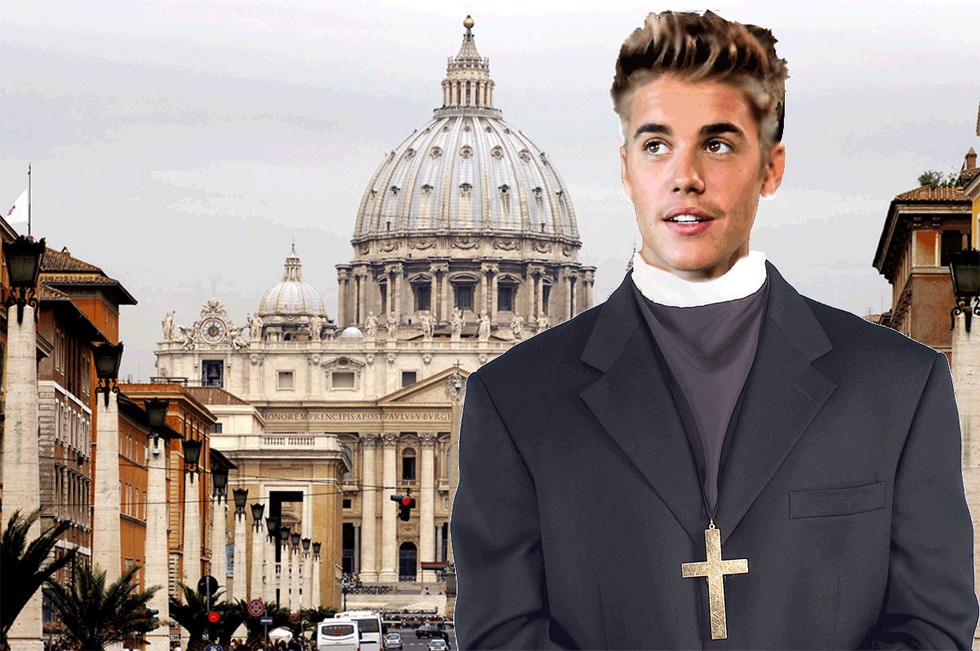 In an exclusive interview with Starpulse's LA office yesterday, Justin Bieber sat down with us and talked about plans for his future - which started off with a shocking twist.
"Yeah, I just actually joined the priesthood."
That's right - you heard us. Justin Bieber signed up to be a Catholic priest. When questioned further, he responded,
"Well you know - I've always been pretty religious. I pray before every concert... and yeah that's about it. But I figured that's what being a priest is all about. So, I decided maybe it was time I joined up."
We pretty much threw out every other question we had written down initially, because we couldn't have possibly expected this. Seriously - this was just too strange.
"Yeah, after Selena and I fell apart I figured that I should just quit while I'm ahead and just throw it all away and become a priest."
We asked him what was the hardest part about becoming a priest he replied with "I actually have to tell my 'Beliebers' to stop worshiping me as a god - Big Papa says it's sacrilege or some s**t."
Big Papa is Justin's affectionate nickname for his Holiness Pope Francis - and apparently the Holy Father has reciprocated this nickname by referring to Justin in all Vatican Documents as 'Daddy Bizzle.'
We asked Justin what it was like being away from all the hubbub of LA and NYC, and how he was adjusting to settling down - especially surrounded by all men. 
"Well you know - it's not so bad. Actually, I have a lot of Bel... I mean fans here. I think I've unfairly neglected the male demographic of my fans, so now that I'm spending some quality time with them and getting to know them, it's really chill, y'know?"
When we asked him what it was like to have to take the vow of chastity, he gave us a bewildered look. We decided not to push the subject any further. We continued on to ask him how becoming a member of the church would impact his future music career.
"Well, as you know - I officially 'retired' a couple months ago. I had plans to kind of launch a hip-hop career, but it really all fell apart when I started pursuing my true calling here. That being said - I think the spirit of Lil Jeezy (that's Justin's nickname for Jesus, not to be confused with rapper 'Young Jeezy') has rekindled the fire inside me. Me and some of the choir boys are actually re-releasing some of my old material."
"Oh you know - like, for example - my hit single 'Baby' is republished out under Roma Records as 'Infantus' and I think it's just way better, ya feel? It's really going to change the way we hear church music. I think it's really going to bring the younger crowds back to the pews."
Justin had to leave shortly after because he had a cashmere cassock fitting in Firenze and Father Bieber had taken the liberty of requisitioning the Papal jet. We asked him for a blessing to send us on our way. He made the sign of the cross and recited the intro lines to 'Lil B' and left us with a complimentary 'Bieble' - which appears to be a bible with a rhinestoned cross and signed by Daddy Bizzle himself.  
However we do have an exclusive video interview with Father Bieber himself on the next page, so be sure to check that out.