Shiri Appleby Revisits 'Kristin's Christmas Past'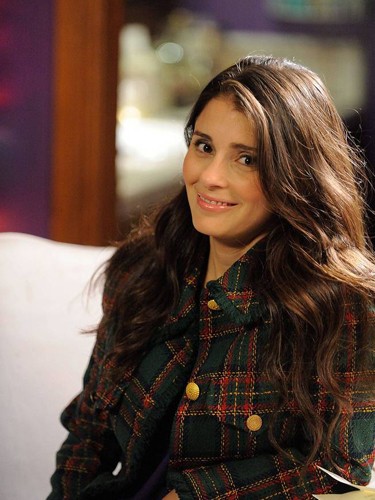 Lifetime is starting its holiday season tonight with the new TV-movie Kristin's Christmas Past, which stars Shiri Appleby as a woman who has the opportunity to go back into her history and change the worst holiday of her life. BFTV snagged a few minutes with Shiri recently to ask her about the film, as well as her impressive turn on a recent episode of Law & Order: Special Victims Unit.
"I just thought it was really great," said Shiri of what made her want to star as the title character. "I thought it was a great idea of what it was like to go back into your past [and] how it makes you who you are today."
She leads a cast that includes Elizabeth Mitchell (Revolution), Judd Nelson (The Breakfast Club), Will Kemp (Van Helsing) and Debby Ryan (Jessie). We asked Shiri if there's a moment from the film that stands out to her, and she told us to look out for a moment in which Kristin has a moving conversation with the other female members of her family. "It's so honest. The other ladies and myself kept crying while we were shooting," she revealed. "I think it was an emotional, heartfelt moment."
Here's a preview for the movie.
When it comes to her own life, Shiri is less interested in looking back and more interested in looking forward. Last week, audiences had a chance to see her flex some serious dramatic muscle as she portrayed a Coast Guard officer who becomes a victim of rape on NBC's Law & Order: Special Victims Unit, in one of the best guest-star performances that show has seen this season.
"I thought Law & Order was really a different kind of role for me," she told us, adding that she hoped it gave viewers "the opportunity to see me in a different way." And as for what she'd like to do next, "Hopefully in the future, I can do more comedy," she added.
The actress is a familiar face to TV audiences, having broken out with her starring role on The WB's Roswell from 1999-2002, led The CW's Life Unexpected for two seasons, and most recently appeared in recurring parts on NBC's Chicago Fire (as the on-again, off-again girlfriend of Lauren German's character) and HBO's Girls. She can always be counted on to deliver a solid performance, and at the center of Kristin's Christmas Past, she infuses the movie with warmth and charm.
Asked what makes a project worthwhile for her, she explained that it's "The experience I had with the people that I made the project with, what I learned about myself, what I learned about my craft."
"I think that the thing that's most exciting to me is that I'm still continuing to work," Shiri reflected. "It's just really exciting that I'm able to continue in this field and work with better people and continue to be given opportunities."
Kristin's Christmas Past airs tonight on Lifetime at 8 PM ET/PT. You can also keep up with Shiri by following her on Twitter (@ShiriAppleby).
(c)2013 Brittany Frederick. Appears at Starpulse with permission. All rights reserved. No reproduction permitted. Visit my official website and follow me on Twitter at @tvbrittanyf.