Shining And Falling Stars: Pope Francis & Justin Bieber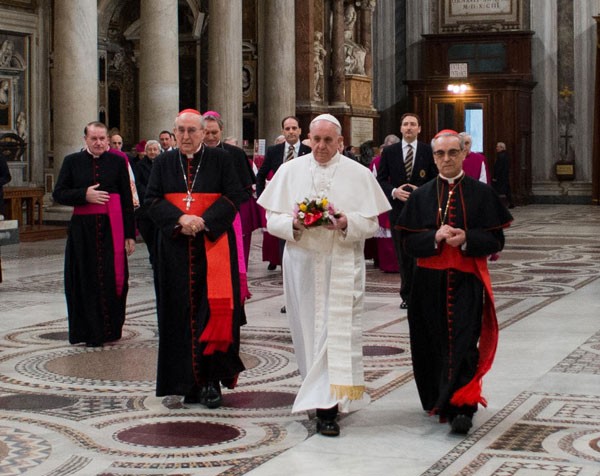 RISING STAR* He's holy, apparently cooks his own meals, feeds the poor and is from Argentina, and he is the hottest thing being talked about this week…and no I am not talking about Antonio Banderas (he's not Argentine anyway). I'm talking about the new Holy Father himself, Jorge Mario Bergoglio AKA Pope Francis.
The entire world waited in suspense to find out who would be taking over the reins for Pope Benedict XVI, and on Wednesday March 13, history was made as Pope Francis stepped onto the balcony of the Vatican, revealing himself to his 1.2 billion Catholic followers.
Pope Francis, besides being talked about for being the new Pope, has been at the center of various conversations for his uniqueness and calm nature. He is this era's first non-European Pope, a lover of wine and soccer and a promoter of peace and social justice. He is 76 years young… and the first of this period to take the name Francis -- after St. Francis of Assisi.
He is known as a humble and simple human being who chose to live in an apartment versus an archbishop palace, passed on limousine rides, and refused to be elevated on the platform above his fellow cardinals. Instead, Pope Francis chose to stand with them during his introduction to the world.
Although the Pope is known for his charitable ways, his track record is not all squeaky clean and his past has managed to stir up some controversy and critics. He opposes same-sex marriage and abortion, distribution of free contraceptives and his name has been attached to a few scandals and political violence in his home land.  
Pope Francis' "first day on the job" was Wednesday, March 14th and he will most likely hold his next mass on Sunday, March 17, in St. Peter's Square.
He will officially be installed as Pope on Tuesday, March 19.