Shining And Falling Stars: Justin Timberlake And Justin Bieber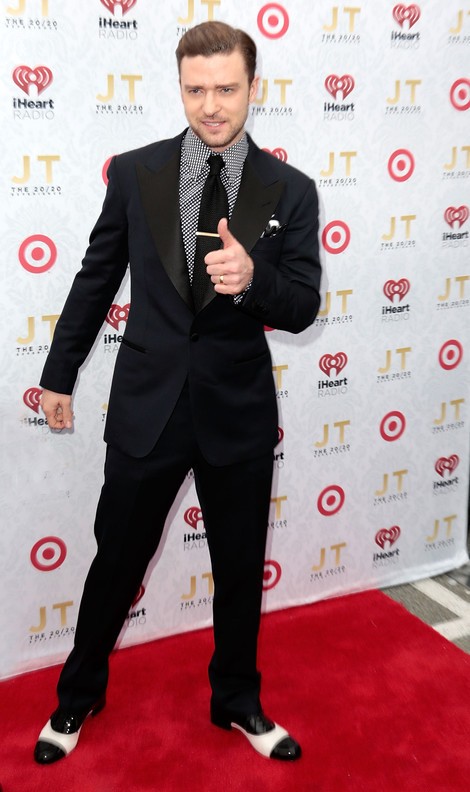 They have the same first name, similar sounds, and musical styles and are loved by fans worldwide, but this week there is no question about where they stand in the headlines. One continues to rise to greatness while the other needs ANOTHER band aid for the booboo's he keeps on creating (or a talk with his mama, even though she thinks we're all being a little too hard on him).
SHINING STAR--JUSTIN TIMBERLAKE:
It has been seven years, and he is finally bringing sexy back! This week's rising, shining and talented star is the current Prince of Pop himself, Justin Timberlake. He sings, acts, and dances…the definition of a true triple threat. After promoting and releasing his most current album, '20/20 Experience,' Timberlake is on top of the world and it doesn't seem like anything will be able to stop him. Within the first week the album sold close to a million copies, 968,000 to be exact, and debut as #1 on the Billboard 200.
Our favorite J has had quite a journey to get to where he is today. First becoming popular back in the 1990's for his vocal chords and dance moves as the youngest member of Nsync, Timberlake branched out as a solo artist in the new millennium, astonishing his fans and building what today seems like a JT empire. In recent days before his albums release, Timberlake's brand grew to new heights as he became the main character in various commercials, co-hosted 'Saturday Night Live,' appeared as a guest for a full week on 'Late Night With Jimmy Fallon,' and was the talk of the town, or should I say country…or world… in the preliminary days of his album release. iTunes even streamed the album prior to its official release which advanced his comeback album's sales to the max. JT's wifey is former 7th heaven star and stunning beauty, Jessica Biel (which clearly has his haters, hating…) and him and the infamous 'Jiggaman' Jay-Z, will be touring this summer.
Mr. Timberlake won't need anyone to 'cry him a river' these days… I'm sure Britney B*tch is wishing she hadn't been so 'Toxic,' and let JT slip away.