Shia LaBeouf Walks Out Of 'Nymphomaniac' Press Conference, Shows Up To Premiere With A Bag Over His Head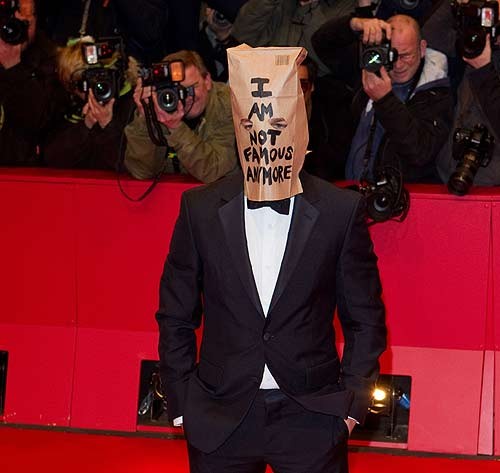 Shia LaBeouf is either a marketing genius, or he's got some serious issues.

The star, who has made headlines for all sorts of antics since being accused of plagiarizing the material for a short film he produced, stunned the crowd at the Berlinale International Film Festival in Germany on Sunday when he showed up with a paper bag over his head with a message reading "I Am Not Famous Anymore" written on it in big black lettering.

While promoting the controversial new Lars von Trier film Nymphomaniac at the annual festival, Shia joined co-stars Stacy Martin, Uma Thurman, Stellan Skarsgard and Christian Slater at a press conference prior to the premiere, and he walked out after answering just one question.

When asked about the sex scenes in the film, LaBeouf answered, "When the seagulls follow the trawler, it's because they think sardines will be thrown into the sea. Thank you very much."

Last month the 27-year-old announced his retirement from acting on his twitter page. The announcement came following his admission to plagiarizing the material used for his short film.

But even LaBeouf's quote isn't original -- it was used by French actor and former soccer star Eric Cantona following an assault conviction in 1995.

But Shia may be playing us all, just like Joaquin Phoenix did in 2009 when he announced his retirement from acting to pursue a rap career. As it turned out he was just in character for his movie I'm Still Here.