Shia LaBeouf Stages Strange Six-Day Art Installation In Los Angeles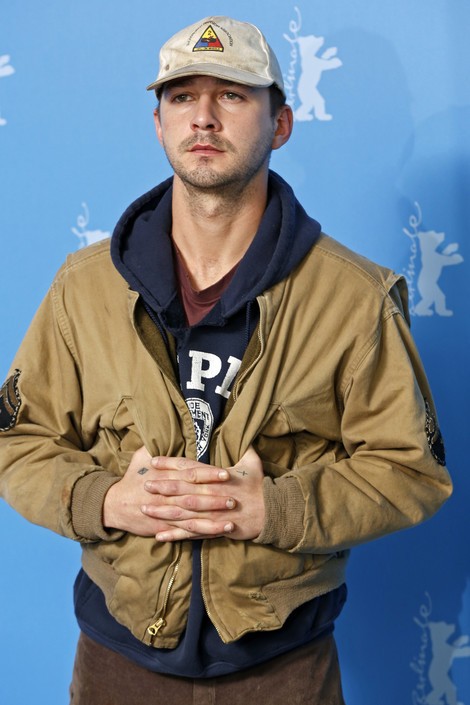 Shia LaBeouf has continued his string of recent antics by staging an art show in Los Angeles titled "#IAMSORRY."

The actor, who walked out of a press conference in Germany for his new film Nymphomaniac over the weekend and then showed up to its premiere with a bag over his head reading "I Am Not Famous Anymore," appeared at the center of an art installation at the Cohen Gallery in L.A. on Tuesday.

#IAMSORRY also features Finnish perfomance artist Nastja Sade Ronkko and painter Luke Turner. The show will run through Sunday from 11am - 6pm (Pacific).

"Shia is sitting down, paper bag on his head, hands firmly planted on the table," a photographer from TMZ.com revealed after getting into the exhibit. "I introduce myself... No response. I tell him I find the bag to be distracting and if he'd be willing to take it off. He obliges."

Back in December, LaBeouf admitted to plagiarizing the work of Daniel Clowes for his short film "Howard Cantour.com." LaBeouf apologized, saying, "In my excitement and naiveté as an amateur filmmaker, I got lost in the creative process and neglected to follow proper accreditation. ... I'm embarrassed that I failed to credit @danielclowes for his original graphic novella Justin M. Damiano, which served as my inspiration.

"I was truly moved by his piece of work & I knew that it would make a poignant & relevant short," he added. "I apologize to all who assumed I wrote it."

The actor then went and had "I Am Sorry Daniel Clowes" written across the sky by an airplane and has since claimed he's stepping away from acting. He also posted the same saying he had written on the bag over his head in Germany -- "I Am Not Famous Anymore" -- on his Twitter page every day since late January.