Shia LaBeouf Helping Neighbor Win Battle Over Wall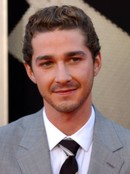 Shia LaBeouf is helping his neighbors win a battle with local officials in Sherman Oaks, California after they built a wall to shield them from paparazzi chasing him.

Orit Picker erected the wall a year ago in a bid to keep photographers seeking shots of the Transformers: Dark Of The Moon star off her property.

But her actions have upset some Sherman Oaks locals, who claim the border is too high - and now city planning officials insist the wall is illegal.

A hearing is scheduled for Tuesday, and the Pickers could be forced to tear the wall down.

Orit tells local online newspaper the Sherman Oaks Patch, "I need that wall for security reasons. Seven days a week, the paparazzi are on my property, damaging my car, invading my privacy just because they're trying to get photos of my neighbour... I need the wall to keep the paparazzi out."

And she tells the publication she has signed documents from many of her neighbours - including LaBeouf - stating they have no objections to the wall.

Picker's lawyer Fred Gaines says, "We are all going to a hearing Tuesday before the Planning and Land Use Committee of the Los Angeles City Council. We're going to hash this out."