Shia LaBeouf: A Former Disney Star Who Is Bucking The Trend

Shia LaBeouf
is an interesting young Hollywood star because unlike a variety of former Disney stars, he's managed to slide his way into the adult acting world with very few bad moves.
Born to an interesting family in California, his mother a ballerina/designer and his father a former mime, his name means "Gift from God" in Hebrew and is often mispronounced by fans and critics alike (it's SHY-uh). Shia started acting as a child, starting in "Caroline in the City," but he became famous for playing Louis Stevens in the Disney show "
Even Stevens
."
This success came rather quickly for Shia since he was only just signed to an agent, but perhaps it was his natural charm and genuine talent that caught Disney's eye. He starred on the show for three seasons and then had a TV movie, followed by two other Disney TV movies "
Tru Confessions
" and "
Hounded
."
In many ways Shia spent his formative years on Disney TV, and it was through them that he landed the position of Stanley in the movie
Holes
. This movie was something of a sneak attack, earning over $67 million dollars and getting generally good reviews. Shia himself gained a lot of notice and interest from people who were not certain where this young star came from, but wanting to know more about him.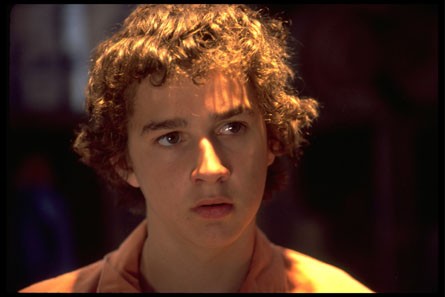 Image © Buena Vista Home Entertainment, Inc. and Walden Media, LLC. All Rights Reserved
Shia moved to a more adult channel, HBO, for "
Project Greenlight
" where he starred in the winning indie film
The Battle of Shaker Heights
. This was his move into a more adult forum, having stayed mostly in G or PG rated work until then.
Fans of the second
Charlie's Angels
movie may not have even recognized Shia as the orphan the Angels were protecting. This then led to several side roles in movies like
Constantine
,
I Robot
,
A Guide to Recognizing Your Saints
, and
Bobby
. Shia received attention in each of these roles, despite the bigger stars within them.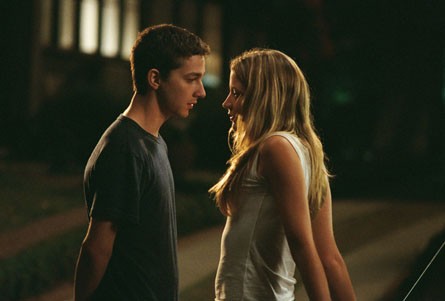 Image © 2007 DreamWorks LLC and Cold Spring Pictures. All Rights Reserved.
It seemed like everywhere you looked there was Shia LaBeouf, and even if they were smaller roles, they gained him a list of excellent chosen films and connections with famous actors and directors.
It was in 2007 for the film
Disturbia
that Shia really broke out, and it proved that he could carry a film on his own wiry shoulders. Intelligent and rather forthcoming with the paparazzi, more and more eyes turned to Shia and wondered whether this rising young star would become the next big thing. He won three Teen Choice Awards for
Disturbia
, and in the same year he solidified his name in Hollywood due to the hit
Michael Bay
movie
Transformers
.
He had caught the attention of one very important man, executive producer
Steven Spielberg
, which led to him being cast in the long anticipated return of Indiana Jones. Shia played Indiana's long lost son Mutt in
Indiana Jones and the Kingdom of the Crystal Skull
, playing off longtime heartthrob and action star
Harrison Ford
. Shia also starred in the thriller
Eagle Eye
which gained notable success.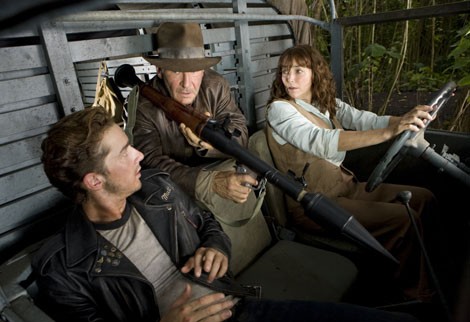 Image © Paramount Pictures
On June 24
Transformers: Revenge of the Fallen
hits the theaters with Shia reprising his role as companion to the Autobots Sam Witwicky. It is also notable that though Shia had a serious injury due to a car accident, he returned to work as quickly as possible to not let down the cast. He's been injured several times on set and doesn't let it slow him down, showing a remarkable respect for his co-workers and a disturbing lack of respect for his own health. Then again if you were working on "Transformers," you might take a few stitches with a big smile too!
Shia will also appear in the comedy
New York, I Love You
, and upcoming film "Money Never Sleeps." It is also rumored that novelist John Grisham chose Shia personally for the upcoming adaptation of his book The Associate.
At 23 years old, Shia has grown into an excellent actor in thrillers, action, dramas, comedy, and perhaps even a little romance. While his personal life does have a few spots of trouble with the law (trespassing, smoking, and possible drunk driving charges), he still is one of the most notable young actors in Hollywood right now and is certain to be around for years to come. Let's see how many other child actors can show the same amount of lasting power!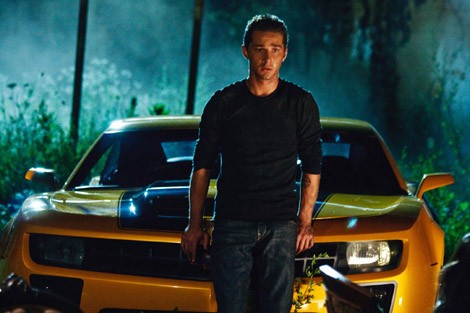 Image © Paramount Pictures
What do you think of Shia? Let us know in the comments!
Story by
Chelsea 'Dee' Doyle
Starpulse contributing writer