'She's Out Of My League' Is Funnier Than You Would Expect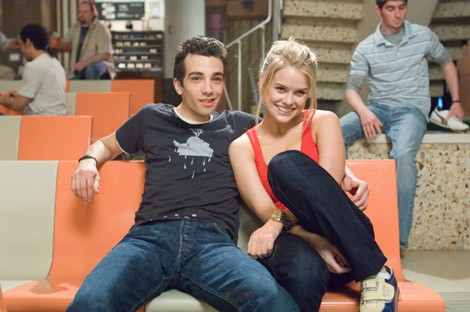 The stars of "She's Out of My League," Alice Eve and Krysten Ritter, attended a screening of their new movie in Boston Thursday night. The "American Pie"-esque romantic comedy actually surprised the audience with way more laughs than expected and overall left the crowd pleased. It's a perfect date movie - just make sure to leave your parents at home.

Alice Eve plays Molly, a hot event planner dubbed as a "perfect 10." She is on her way to New York when she leaves her cell phone in security at the Pittsburgh airport. As fate has it, it finds its way into the hands of TSA worker, Kirk (played by Jay Baruchel). Kirk is skinny, dorky, lacks confidence and is only a "5" compared to Molly's "10." He is shocked when she asks him to meet her the next night at one of her events to return the phone. The two end up hitting it off, and to the surprise of his friends and family they begin to date.

The movie drew loud laughs with a few explicit sexual jokes and scenes and was better than most people anticipated. One of the most lovable characters was Kirk's best friend, Devon, played by Nate Torrence. His constant referrals to Disney movies and his optimistic views about love made you want to reach through the screen and give him a hug. Until that one hilarious scene in the bathroom with Kirk…

London-born Alice Eve admitted that she did wear panties to the screening and doesn't really have webbed feet (you'll have to see the movie to get that joke). Although she portrayed the perfect girl in the film, she said she does have flaws (we hope so) and that if you love someone they are a "10" no matter what. How sweet!  She got her start in the acting business by following in her parents footsteps (Trevor Eve and Sharon Maughan), who coincidentally played her parents in the movie.

Krysten Ritter played Molly's best friend Patty, a bitchy and harsh character who is surprisingly likeable. Krysten admits that acting is a very hard job but she's happy she is doing what she loves. She is usually cast as the best friend in feature films ("Confessions of a Shopaholic") and is sometimes mistaken for Anne Hathaway, although she thinks she looks just like the main character from "The Nightmare Before Christmas." When Krysten auditioned for Patty, the frumpy, non-attractive bitch, she thought they would alter the role when she landed it. "They didn't," she joked.  

Both actresses are keeping busy promoting "She's Out of My League" and Krysten is currently working on the new Amy Heckerling movie, Vamps, while Alice can be seen in the upcoming "Sex and the City 2." "She's Out of My League" was directed by Jim Field Smith, written by Sean Anders and John Morris, and was produced by Jimmy Miller for DreamWorks. The comedy hits theaters on March 12.



Story by Erin Demchak

Starpulse contributing writer