Sheryl Crow To Donate Concert Proceeds To Help Wild Horses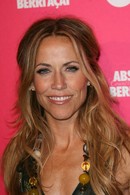 Sheryl Crow is to donate a portion of the profits from her upcoming concert in Wyoming to help a wild horse protection group.

The singer, who is an avid animal rights campaigner, is due to perform alongside Kid Rock at the Cheyenne Frontier Days event on July 22nd and she will hand over some of the money raised to bosses at horse advocacy group Cloud Foundation.

Members of the organization are currently suing the U.S. government in a bid to halt plans to round up a large herd of wild mustangs in Nevada later this month.