Shenae Grimes Had No Clue '90210' Castmate Trevor Donovan Left The Show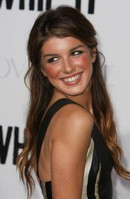 90210 star Shenae Grimes has slammed TV bosses for leaving her in the dark about her co-star's decision to leave the hit sitcom.

Actor Trevor Donovan announced his departure from the show on Tuesday but Grimes wasn't informed - paving the way for an embarrassing interview with a New York Post reporter the following day.

When questioned by a journalist about her reaction to Donovan's leave, a source says, "Her face dropped. It was clear she was not aware of the news.

"She started making calls on the red carpet, holding back tears. She was heard saying on the phone that it was 'unprofessional for cast members not to be formally notified when a change of this magnitude occurs.'"