Shauna Sand's See-Through Mesh Coverup At A Beach Bunny's Swimwear Boutique - Hot Or Not?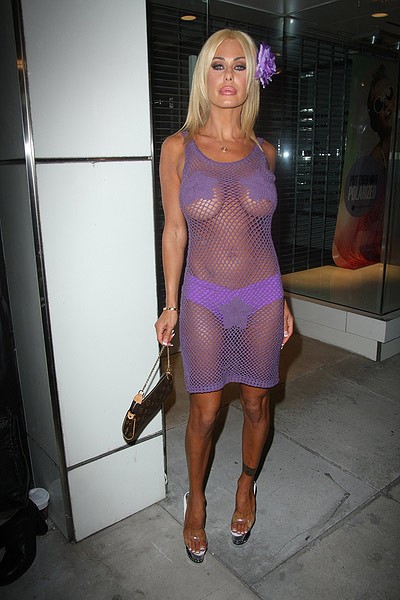 Shauna Sand showed up at the Beach Bunny's Swimmwear Boutique Opening in Los Angeles yesterday wearing nothing but purple underwear and a purple mesh coverup with her trademark lucite stripper high-heels. This might have been a good thing...if she was attractive. She's had so much plastic surgery she resembles a transvestite.

Shauna has confessed to romancing "Gossip Girl" hunk Chace Crawford when he was a teenager. The actor was an 18-year-old schoolboy when he first met mother-of-three Sand, who is 14 years his senior, at a party in Malibu, California in 2003.

Sand claims Crawford was shy when it came to sex: "He tried, but you could tell he didn't have a lot of experience in bed. He was so incredibly nervous; he was practically trembling! I tried to teach him a thing or two - and I think I did."

Wonder if he regrets it?

Shauna recently tried to block Vivid Entertainment from releasing a sex tape she made despite signing an official release. When she realized she wouldn't win the case she decided to start promoting it instead; however, this is the first (and alot!) that we've seen of her since all that happened last fall.
Images on the following pages are potentially NSFW as you can see a bit more.
- Click here for more Shauna Sand pictures! -