Shauna Burns Embarks On A Fascinating Journey Of The Soul On New CD, Due Feb. 19

On the cover of
Shauna Burns
' critically acclaimed 2005 breakthrough album
Every Thought
, the dynamic singer, songwriter and pianist looks off into the distance while holding a set of keys in her hand.
Those keys were a powerful metaphor for the overall story she told in her songs, about our unconscious minds coming to consciousness and the potential we all have within ourselves to take control of our own destiny. They also unlocked the door to an exhilarating career as one of the most promising multi-talents on today's indie music scene-a spiritually driven journey that blossoms on her new CD
The Moon and The Fire Circle
, which is set for international release on February 19.
The disc's compelling first single "Around You" will soon make it's way to radio stations nationwide; and she recently made a video for the poignant track "Bloom." A video for "Around You" is now making its rounds on several major internet video sites.
The singer's blend of ethereal vocals and sweeping piano and percussion driven atmospheres launched the singles "Pink Girl" and "Petunia" from
Every Thought
to major success in radio format upon its release.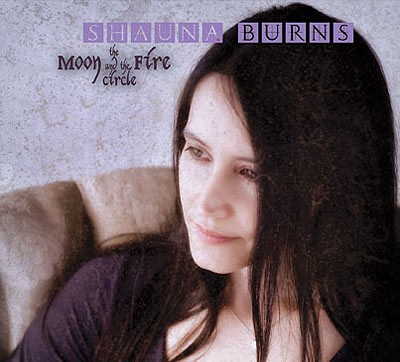 Over the past few years, Burns has enchanted audiences at clubs and Borders Stores across the U.S. and in the U.K. (where she toured early in 2007) with songs from her debut and its follow-up five song EP
Desert Tune
, which featured songs that overflowed from the first album's sessions. Her first tour in support of her debut was 40 dates and her most recent jaunt covered 20 dates from coast to coast during the summer and fall of 2007.
A fascinating and richly detailed journey from the light to the dark and back to the light again,
The Moon and the Fire Circle
finds Burns taking us with her as we travel deep into the underworld of different points of view.
"The twist in the story is who is telling us which is light and which is dark?" she says.
www.shaunaburns.com