Sharon Stone To Seduce Tom Felton In 'Attachment'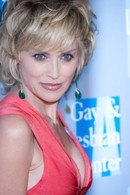 Sharon Stone is set to seduce Harry Potter star Tom Felton in upcoming sexual thriller Attachment.

The Basic Instinct actress will play a married teacher who has a passionate one-night stand with one of her students, who then begins to stalk her.

Felton, best known as the villainous Draco Malfoy in the boy wizard movies, will play the teenage antagonist, according to ComingSoon.net.

Production is scheduled to begin in the coming months.